---
Where I'm at today
Just one fact will tell you where my head is; where my heart is; where my soul is.

At 1:22 pm on Saturday, October 15th, 2016 - Sweetest Day - I watched helplessly as my fiancée, Camille, my baby, my darling, died from cancer at U of M Hospital.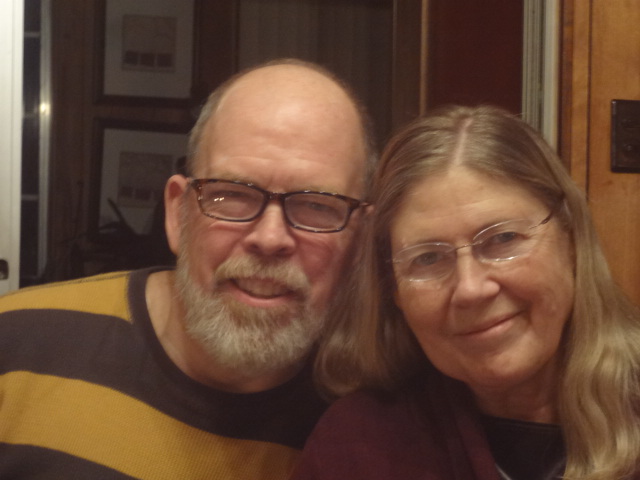 Since 1983, Camille had lived in her family's little cottage in the countryside northeast of Ann Arbor. &nbsp The cottage is nestled in front of a small forest and behind tall pine trees on a twenty-four acre property which includes twelve acres rented out for crops. &nbsp Since the summer of 2013, Camille and I spent as much time together as possible, and once I retired from teaching, in June of 2015, that became all of the time. &nbsp Knowing how much I loved the "farm" and that I would take care of it, Camille left that property to me. &nbsp Now I live mostly in Ann Arbor, and I am taking loving care of the farm. &nbsp However, I also really love my Detroit townhouse, my neighbors, and the culture of Detroit, so I do spend time in Detroit, as well. &nbsp Regardless of whether I am driving to Detroit, or driving to Ann Arbor, I say that I am "going home". &nbsp I am so fortunate to be blessed with this pleasant living situation, yet it is so empty without my baby, Camille.
Some details from my three and a half years with Camille appear at the bottom of this page.
---
Mr. B to the E to the C to the K &nbsp -- &nbsp The Website Name
| | |
| --- | --- |
| In 1997, when I was teaching at Miller Middle School in Detroit, two girls in my seventh grade math class took to calling me "Mr. B to the E to the C to the K." &nbsp They would say it really fast, and with a short four-letter name like Beck, it sounded right. &nbsp I'm just happy that my last name didn't have eleven letters like my first. &nbsp Little did I think, then, that much later b2e2c2k would come in handy when I was trying to find a short e-mail handle that wasn't already taken. &nbsp I was also pleasantly surprised that it was still available as a website address. | |
---
cebec
I am fond of signing off with this little string which consists of my initials and most of my last name. &nbsp I truncated it to be nicely symmetrical, and I don't ever capitalize it. &nbsp It's great for user names if I am permitted to use one that is only five characters, because nobody else seems to be using it.
Though I usually like people to call me Chris, I always prefer that my name appear as Christopher in written or printed form. &nbsp Since many forms only allow ten letters for a first name, it means I often have to truncate my name to Christophe (which happens to be the French spelling of my name.) &nbsp I have always considered Christopher Beck to be a fairly easy name for others to spell, however things are slightly complicated by those unfortunate people who spell their names with a K instead of a Ch. &nbsp Excuse my condescending attitude, but when I encounter Chris or Christopher spelled with a K, I assume that the parents just didn't know how to spell it correctly. &nbsp What really makes me cringe is when I pick up a carry-out and see Cris written on the ticket. &nbsp Then I wonder what planet the person who wrote that is from.
As it turns out, the letter K has been the least of my worries regarding incorrect name spellings. &nbsp When I lived in Lafayette Towers, I received a solicitation in the mail with an address that was so painfully wrong that I had to cut it out and save it. &nbsp That inspired me to start saving all the many variations of my name (and address) that I have received on envelopes addressed to me. &nbsp I now live on a street with a name that just begs to be misspelled, but I will just list some of my apparent aliases below. &nbsp The name and address that got my collection started was: &nbsp Crzis P. Beck, with an address at Lafayette Towerf in Detroi. &nbsp Here are some others . . .
| | | | | |
| --- | --- | --- | --- | --- |
| Christop Beck | Cchristopher E Beck | Christo Deck | Christopher C Beck | Christphe Beck |
| Christopher Betz | Christoph Peck | Christopee Beck | Christopher Verbeck | Christopher D Beck |
| Christophr Buck | Christophe E Duck | Criss Becks | Bruce Beck | Cjristopher Beck |
| Ms Christopher Beck | Christopher Zajac | Christopher Becerra | Christoper Beck | Christopher Bed |
---
California
This is one of my favorite baby pictures: &nbsp me with my dirty fingers in the back yard of my grandmother's wonderful house on California in Highland Park. &nbsp The big three-story house was the first house off Woodward (California only has houses on the south side of the street.) &nbsp I really loved that house, and I got to spend plenty of time there because my parents would deposit me and Lex there every Saturday before dinner and pick us up some time on Sunday. &nbsp The house had push-button light switches, green rubberbands on the door knobs, a basement floor that was painted gray and totally devoid of any objects, a big octopus furnace with a little mica window through which I loved to look at the fire, and a round open-top washing mashine with a ringer on top. &nbsp On the back porch of the house my grandmother had a pump sewing machine.

An alley ran behind the businesses on Woodward, so the back yard had an alley on two sides. &nbsp There was a tall green lattice fence at the front of the yard (just visible in the photo.) &nbsp Growing on the fence were some sort of pea pods and I remember eating them off the vine. &nbsp I can't remember what kind of flowers my grandmother grew in the back yard, but they were plentiful, colorful and beautiful. &nbsp I'd give anything to be able to return to that era for one day and refresh my memories of that house, that yard, and that neighborhood, not to mention my grandmother.

That's glamorous mom on the right, who lived in the California house during her college years.
My grandmother, formerly Carrie Nowosielska, spoke Ukranian half of the time, and never learned to drive. &nbsp She would walk everywhere, but sometimes took us to the store by bus. &nbsp I even vaguely remember riding the Woodward streetcar with her. &nbsp We would take frequent walks to the incredibly beautiful McGregor Library which was only one block away from the house. &nbsp I loved going to that library.

My grandfather, Nickolas Rapinchuk (last name later Americanized), worked at Ford Motor Company in Highland Park and was nicknamed Whitey for his hair. &nbsp He died when I was five years old, and I can just dimly remember him. &nbsp He did speak English well, but slipped in Ukranian words now and then. &nbsp It was after him that my son, Nicholas, was named. &nbsp In this colorized photo from the 1920s, my mom is seated on the chair.
---
Greenfield Union
I always used to walk to my elementary school, which was about six blocks from my home. &nbsp There would be a regular parade of kids walking up and down Charleston, to and from Greenfield Union. &nbsp Then, I knew all of the kids on the blocks in between, but now I have forgotten almost all of them. &nbsp A few of the kids I do remember from grade school include Louis Ghaffari, Helen Cannon, Tim Murray, Peter Parks, Jane Hatkow, Gary Griffenham, Richard Parker, Keith Pinkham, Maria Gaizutis, and Lark Bushey, not to mention the kids who lived on Hildale, of course.
I remember a number of my teachers from Greenfield Union. &nbsp Our principal was Lois Creed, and there were two teachers named Mrs. Parent. &nbsp The art teacher was Michael Curtis. &nbsp He painted a picture of me and Alexis that mom put over the fireplace in our living room. &nbsp We had a gym teacher named Mr. Karate, and I doubt that there was a single student at Greenfield Union, who didn't say "I know Karate." at least one time. &nbsp I wasn't overly fond of the other gym teacher, Mrs. Kane. &nbsp She would call me "ChrisB" saying it like "crispy" and think that was funny. &nbsp I didn't. &nbsp I suppose there must have been another Chris so she had to specify the initial. &nbsp The real reason I didn't like her was that she made us dance. &nbsp I still remember "heal-and-toe, heal-and-toe, slide, slide, slide." &nbsp Ugh!

I liked the science teacher, Mr. Greenia, and all his cool experiments like the volcano he made. &nbsp One time he had the whole class stand in a circle and hold hands while the two kids on the ends held wires connected to a little generator. &nbsp When Mr. Greenia turned the crank, we all got an electric shock. &nbsp Can you imagine the lawsuits if a teacher did something like that today? &nbsp I remember Mrs. Stover with all of her sayings, like "I'll bet you dollars to doughnuts" (whatever that meant), and her little poem: &nbsp There was an owl, sat in an oak / The more he sat, the less he spoke / The less he spoke, the more he heard / Why aren't we all like that wise old bird?" &nbsp That's Mrs. Stover in the picture, walking up the steps into school off of Charleston, with me right behind her. &nbsp Mrs. Brogdon, my math teacher, was nice - she once encouraged me to construct an entry for the science fair, which I did.
For years I was one of the two flag boys at Greenfield Union. &nbsp I learned the proper way to fold the U.S. flag, and I still remember it. &nbsp The school's flag pole extended up from a roof peak over the front steps. &nbsp We two flag boys would take turns swinging way out over the steps by the very long ropes that hung from the top of that flag pole. &nbsp One time we got called to the office from our classes. &nbsp A passing motorist had notified the school that the flag was flying upside down! &nbsp That was the first and last time we ever made that mistake. &nbsp I was also an audio-visual boy at Greenfield Union. &nbsp I learned how to thread film into a 16mm projector, how much slack to leave in the loops, and so on. &nbsp My job meant that I occasionally got to leave my class and show movies to other classes. &nbsp In the fifth grade I accidentally stabbed myself in the palm of my right hand with a pencil. &nbsp I still can picture going to the office, washing the wound and getting a bandage for it. &nbsp To this day, I have a blue dot under the skin of my palm from the pencil lead. &nbsp In the sixth grade, the math teachers decided to move me up a half-grade, so I took 6-A math twice.
I posted both of the above pictures on Facebook in a group called I went to Greenfield Union Elementary School and they both generated a lot of conversation.
---
Nolan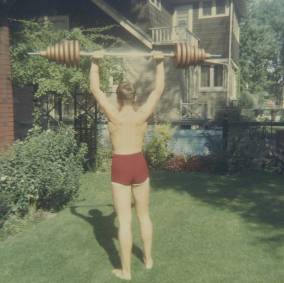 Perhaps I don't remember much about Nolan Junior High School because I don't want to. &nbsp It was not one of my favorite eras. &nbsp Junior High School consisted of seventh through ninth grades then. &nbsp The only teacher I fondly remember was an English teacher named Mr. MacNeil. &nbsp He was the one who taught me to avoid using the word "very" in favor of a more descriptive adjective.

When I started at Nolan, I used to make the long walk there and back from home. &nbsp Along the way, the widest street I had to cross was Oakland Avenue. &nbsp It was a busy street because it was actually a part of the I-75 freeway. &nbsp The freeway ended at McNichols and all the traffic was sent up Oakland Avenue two miles to Eight Mile, where the freeway resumed. &nbsp It was the last unfinished stretch of the freeway. &nbsp By the time I was done at Nolan, we walked across a pedestrian bridge to cross the completed freeway where Oakland Avenue used to be. &nbsp Once it was paved, we would ride our bikes down on the freeway all the time. &nbsp My good friend Alex Scott had a 4 HP minibike with a two-speed auto-trans, and we would ride that down on our "private" freeway, too.

Sometimes I would ride my bicycle to Nolan; lots of kids did. &nbsp There were bike racks by the playground, and they would frequently be full of locked up bikes. &nbsp It was while I was at Nolan that I got a set of weights and started lifting. &nbsp I finally lost my pudgy look as I got taller and worked out with the weights. &nbsp On the playground at Nolan, I learned how to "stick straight out from a pole." &nbsp That's where you grab onto a round pole of about two inches in diameter (like one that would support a parking sign), and support your body horizontally about one yard above the ground. &nbsp The trick is in knowing how to place your hands on the pole.

While looking recently at my sister's house for her Pershing yearbook, we instead found her 1969 classbook from Nolan. &nbsp The book has pictures of all the students by homerooms, but no names! &nbsp I am going to scan a picture of the school and a picture of the principal, Dennis Clary, and put them here. &nbsp The classbook reminded me of teachers I had totally forgotten: &nbsp Mrs. Selman, Mr. Paxton, Dr. Dudeck, Mrs. Gorney, and Mr. Clark.
---
Pershing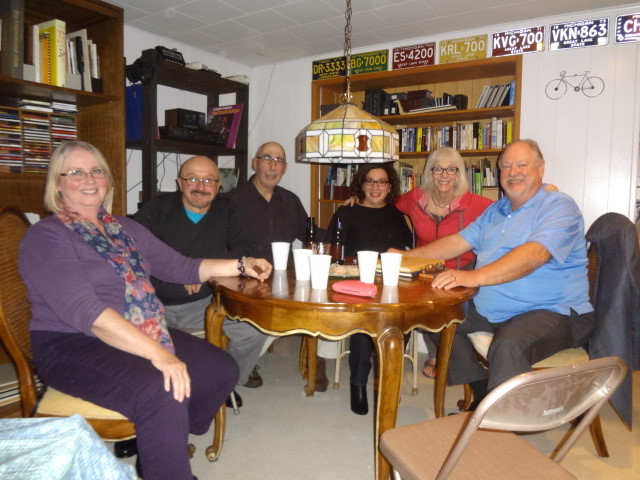 Saturday, October 24th, 2015 at my house. &nbsp This was actually a "retirement" party for me, and I invited many neighbors and other friends. &nbsp I could only invite a few of my Pershing pals, and about half of them weren't able to attend anyway. &nbsp Still we managed to field one table and shared a lot of memories. &nbsp Around the table L-R were Peggy Gibbons, John Tonkovich, John and Angelique Meiu, Audrey and Howard Dibble, and me (taking the picture). &nbsp My sister, Alexis, was at the party, too. &nbsp There are a few more pictures, and some comments about the party on my Facebook (ugh) page.
The sentiments for another party seem strong - especially among those who couldn't make this one. &nbsp So while the house is still sorta clean - and since the party-goers brought me about a dozen more bottles of wine - I am planning to have another party in December. &nbsp This time it will be a Pershing Party (class of '68, '69, and '70), and include people from the Hildale neighborhood, too. &nbsp I am going to make a serious effort to find out when the most of us are avialable, so please answer my e-mails when I ask what days are best for you. &nbsp The first step will be to determine which day of the weekend is best for the most people - Friday, Saturday, or Sunday? &nbsp Maybe early December would be the best time - not too close to Christmas shopping and other parties. &nbsp If you are in touch with other Perhsing grads from those three years, will you please let me know, or direct them to my website? &nbsp Thanks!
&nbsp
&nbsp
&nbsp
&nbsp
2013 - Another party at Club 54 (like the one two years ago which I wrote about just below.) &nbsp This time the band was way too loud and the place was more crowded with non-Pershing people. &nbsp Still the event was fun, but I hope that the organizers find a different place for the next party. &nbsp A nice surprise was reconnecting with Kent Taylor who lived on Hildale and was one of my friends. &nbsp He graduated from Pershing, too, in 1970, but he didn't even know about our event. &nbsp He just happens to come to Club 54 occasionally. &nbsp Nice coincidence. &nbsp Several people asked me to have another party at my house, so I think I will.
&nbsp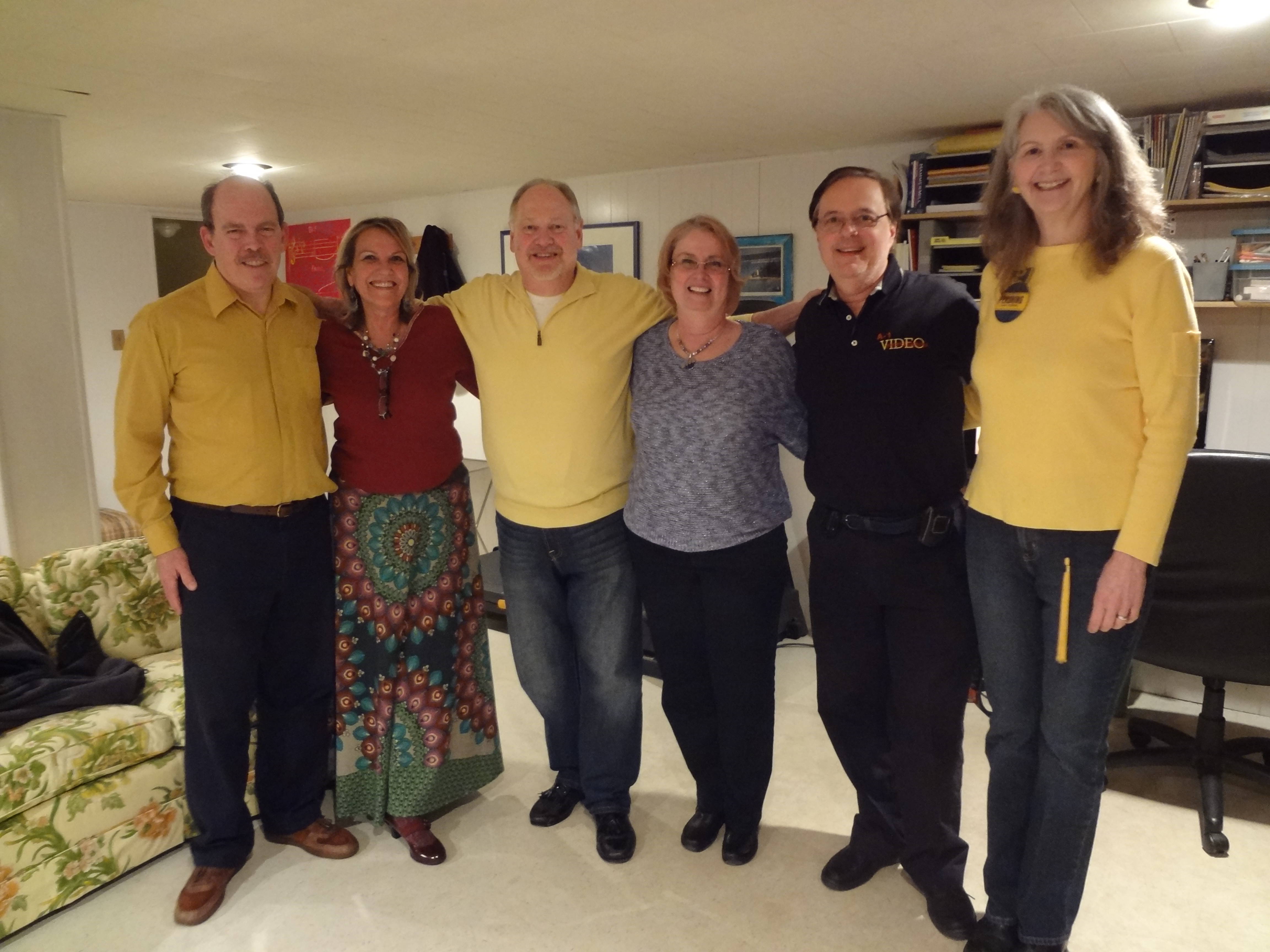 December 30th, 2012 After talking about it for about two years, I actually did throw a Pershing party, and I'm glad that I did. &nbsp The party was lots of fun and it was so nice to see good friends from high school days. &nbsp Thirteen people attended, but many more would have (they told me) had they been available to do so. &nbsp I did realize that I picked a busy time of year to try and get us together, so I will try to have another party around my birthday - March 19.
So here's who did show up: &nbsp Annette Bushey '68 and Gary Molnar '70. &nbsp Everyone else was from the class of '69: &nbsp Annie Green, Marla Brown, and in the picture - me, Julia Urmanavicius, Howard Dibble, Peggy Gibbons, Lloyd Mazzorana, and Pat Anderson. &nbsp (See chart below for name changes.) &nbsp Pat brought her scrapbook and the Nolan yearbook - including my picture - that I had never seen, Peggy brought lots of pictures, and Tony (Lloyd) brought video that he had shot at Pershing parties and out cruising Woodward - great stuff. &nbsp He edited the video onto a DVD with classic rock & roll for a sound track and even brought copies of the DVD for everyone to take home. &nbsp Howard provided scandalous gossip from the drama department - we had no idea of half the stuff that was going on at and away from our high school. &nbsp Julia brought some excellent Mediterranean food, in fact, everyone brought delicious things to eat. &nbsp Not mentioning any names, but the first guest to arrive dropped a bottle of red wine on the sidewalk right outside my front door which then looked like a huge blood stain. &nbsp Too funny. &nbsp Annie set up her Pershing Alumni website on the computer for anyone to look at. &nbsp Best of all, we didn't spend the evening talking about grandchildren, but rather about our memories of Pershing, our teachers and our classmates. &nbsp If you didn't come, you missed out on a lot of fun. &nbsp Next time I don't want to hear any lame excuses like your son's wedding, or open-heart surgery, or your car just got stolen, etc., etc. &nbsp I guess this did end up being a micro-reunion. &nbsp I am hoping that the next time we can move it back up to "mini."
October 15th 2011 &nbsp &nbsp The Pershing mini-reunion for years '68, '69, and '70 was advertised as having hours of 8pm to 2am, and I kinda laughed to myself - as if anyone was likely to stay there for six hours - but I ended up doing so myself. &nbsp It was tempting to stay even longer, I was having so much fun. &nbsp The affair took place at Club 54 in Sterling Heights on Van Dyke north of Sixteen Mile, in a shopping mall! &nbsp No wonder I couldn't find the place. &nbsp After I made my U-turn past Seventeen Mile and came back down, I had my choice of two malls to scout around in, and of course it was the second one. &nbsp So I got there at 8:30 and there were already a bunch of Pershing name tags being worn. &nbsp The tags were nice - preprinted with graduation year and even the month, so I picked up a Jan. '69 tag for myself. &nbsp I immediately spotted John Meiu and Tony Mazzorana, and I had a great time talking to them throughout the evening. &nbsp Pat Anderson was also there. &nbsp If only to talk to those three members of my old gang, I was happy that I decided to attend. &nbsp But there were many other familiar faces, too. &nbsp It would surprise me if there were less than 100 Pershing grads in attendance. &nbsp I found it fun to read the names on the big sign-in board. &nbsp Then I knew which people I wanted to see, but how to find them? &nbsp I had to put on my damned reading glasses and stand close to read the name tags everyone wore. &nbsp At least I was far from the only person with that difficulty. &nbsp Turns out that it was a good thing that I brought my '68 and '69 year books because I didn't see any others. &nbsp I layed the books on a pool table under the lights and people were looking through the books the whole evening. &nbsp I enjoyed talking with John Tonkovitch, Karen Kloss, Rita Kiousis, Gerry Siemiontkowski, Harry Radtke (he was selling Pershing stuff, and I bought a nice hat), Linda Neilson, Ruth Krueger, Ann Connally (she already has pictures from the event on the Pershing alumni site), and Carol Reighard. &nbsp Best of all, there were two Hildale girls - Angie Haddad who lived three doors away from me, and Jenny McKenna who lived one block down. &nbsp It was was great talking with both of them about the old neighborhood. &nbsp Around 9 pm a little rock band set up and played some good classic rock. &nbsp Between sets, a DJ spun more of the same. A lot of people danced, including me. &nbsp I enjoyed dancing with Pat's friend, Connie. &nbsp The band and the music came and went, and the Doughboys and the Doughgirls were still talking. &nbsp It was after 2 am that I reluctantly said goodbye to Jenny and started the long drive home. &nbsp I had notified about thirty-five Pershing people via e-mail about this party. &nbsp A dozen or so responded saying that they wished they could come, but had a schedule conflict. &nbsp That was a shame because I know that they all would have had fun. &nbsp I did.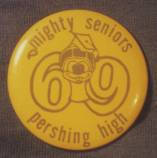 For high school, my parents talked about sending me to Cass Tech, but Detroit Public Schools had recently started a "Science and Arts" program at four high schools including Pershing, which was my local school, although I lived about as far west of the school as its district stretched. &nbsp So in February I enrolled at General John J. Pershing High School. &nbsp I started in February because in those days each grade was divided into "A" and "B" parts so that kids wouldn't have to wait a whole year if they missed the birthday cut-off date. &nbsp It meant that I graduated in January in a class much smaller than the June classes of graduates. &nbsp Our Science and Arts classes were smaller than the normal classes, too, and it was the same bunch of kids in most of those classes. &nbsp I miss many of my Pershing classmates. &nbsp After high school, I saw hardly anybody except Paul Travis who also went to Michigan. &nbsp Just some of the classmates I miss include: &nbsp Paul, Roger Florkey, George Krochmaluk, Pat Anderson, Delores Moss, John Meiu, Julia Urmanavicius, Sabin Greer, Penelope Bathe, Peggy Gibbons, Howard Dibble, Sandy Pernazza, Lloyd Mazzorana, Tom D'Onofrio, Joy Johnson, Kathy Rybarczyk, Dennis Jagielski, Susan Bowers, Mary Sosnowski, Dennis Markowski, Wanda Martin, Susan Moll, Helen Cannon, John Tonkovich, Vija Jons, Corinne Bacharach, Chris Pipski, Richard Zaratzian, Carol Stabile, David Braswell, Rita Kiousis, Raymond Bullock, Kathe Koprincz, David Alexander, and gorgeous Geraldine Siemiontkowski. &nbsp I imagine that during high school every boy identifies a girl for whom he would gladly give up his life, even though she doesn't seem to know or care that he exists. &nbsp For me that was Gerry. &nbsp The only time I came remotely near her was in the basement of Corinne's house on Worcester where we were both helping make decorations for a float. &nbsp It's fun remembering the people I knew from Pershing. &nbsp Every now and then I will get out my '68 and '69 yearbooks and enjoy looking through them. &nbsp Each time I do, I find it strange to look at so many pictures of unfamiliar students. &nbsp I guess it really was a big school. &nbsp Though I still have some Pershing buttons, sadly, my '69 T-shirt has long since disintegrated.
Pershing was a big name in sports while I was there (no thanks to me.) &nbsp As close as I got was that one semester I had the second locker away from the boys gym door, and star athlete, Spencer Haywood, had the locker right next to me. &nbsp In Mr. Dunwoodie's twelfth grade math class, I sat next to Glenn Doughty, and helped him with his math. &nbsp Glenn went on to play football for U of M and was drafted in the second round by the Baltimore Colts.
Speaking of Mr. Dunwoodie, he was one of my favorite teachers. &nbsp He once gave the class a tricky problem to keep us busy, and I don't know if he was more annoyed or more proud that I solved it right away. &nbsp Here it is: &nbsp The students in a math class decided to pool all of their pocket change to buy their teacher a gift. &nbsp They were amazed to find that each of them had the exact same five coins in his or her pockets, that is, each had the same number of pennies, same number of nickels, and so on. &nbsp Since the amount that they collected was $5.29, how many dimes were there? &nbsp If you want a little hint, the reason this problem was easy for me was that I knew my prime numbers, and I knew my perfect squares into the thirties. &nbsp Other teachers I remember fondly are: &nbsp Mr. Fowler, Madame Lampe, Susan Wainstock, Edith Kovach, Mr. Motiu, Leona Brodsky (when she married a rabbi, she invited us Science and Arts kids), Mr. Leever, Mr. Jorgensen, Mrs. Oser, Mr. Lewis, Mr. Clave, Ms. d'Angelo, and Coach Will Robinson. &nbsp My Senior year at Pershing, they started phasing in a ninth grade. &nbsp In the forties, my uncle, Gerry Prokopowicz, also graduated from Pershing, and my aunt, Aulga Prokopowicz, taught at Pershing for the last two years that I was attending.
It's funny that even though I hated English throughout all of my school years, one of my favorite teachers at Pershing was Mr. Gordon Carmichael. &nbsp I miss his walking up and down the aisles, using his hands to mess up the hair of both girls and boys, and saying things like, "I be in the alley." &nbsp He was my teacher for English Literature in the twelfth grade, and in my final semster, gave me the only "A" grade I that ever received in English. &nbsp (I think he must have felt sorry for me.) &nbsp It was in this class that I was introduced to two of my favorite authors. &nbsp For one assignment, we all had to read different novels, and the one Mr. Carmichael assigned to me was Hardy's The Mayor of Casterbridge. &nbsp In addition, we all read the 68 chapters of Bleak House by Charles Dickens. &nbsp Hardy and Dickens became my favorite authors, along with Poe. &nbsp Besides being my teacher, Mr. Carmichael was a sort of neighbor, too. &nbsp I can still picture his little house, set way back from the street on the South side of Hollywood; it's front lawn littered with classic-year sports cars in various stages of being fixed up. &nbsp Once he learned that my family business was motor oil, Mr. Carmichael would, on occasion, come to our warehouse to buy hard-to-find Valvoline SAE 50 for his cars. &nbsp He was a great guy.
The only Pershing reunion that I have attended was our twentieth reunion in 1989, at the Detroit Yacht Club. &nbsp It was a great disappointment that only a couple members of our little gang were in attendance. &nbsp Now our fortieth reunion has come and gone, and I am feeling inspired to see if I can track down some more of my old friends. &nbsp I fully intend to throw my own reunion party when I'm ready. &nbsp I hope to get some current interior and exterior photos of Pershing to put on this page.
From the attempts I have already made to look for classmates using Google's search engine, I know that it's not that easy to locate people, after all. &nbsp In my seeking, I was sad to learn that Kathy Rybarchyk is deceased. &nbsp I have also tried to get in contact with friends who are registered on Classmates.com, but I have figured out that most of them do not check the site nor read their e-mails from Classmates, so it is a fairly useless website.
List of '67, '68, '69, '70, and '71 Pershing Grads who are in touch with this Website &nbsp &nbsp (a couple transfered before graduation)
&nbsp
&nbsp
&nbsp
Corinne Bacharach Spiegel
Roger Florka
Harry Radtke
John Meiu
Christopher Beck
Sheila (Swarets) Jankowski
Tony (Lloyd) Mazzorana
Ray Bullock
Debi (Schultz) Wozniak
Julia (Urmanavicius) Dingle
Susan (Moll) Balan
Helen Cannon
Gary Molnar
Lark (Bushey) Shanku
Leonard Brogdan
Rita (Kiousis) Politis
Angie (Haddad) Cyrkiel
Linda (Neilson) Lynde
Annette (Bushey) Frank
Howard Dibble
Paul Travis
Alan Bushey
Mick Talley
Ruth Krueger
Alexis Beck
Wanda (Martin) Black
Delores (Moss) Scott
Rena (Mohammed) Korte
Jerry Brown
Kathy Reiland
Tim Simon
Yuri (George) Krochmaluk
Samia (Haddad) Harper
Sue (Bowers) Ranew
Pat (Anderson) Wall
David Braswell
David Jordan
Peggy (Gibbons) Kish
Sandy (Pernazza) Freels
Annie (Green) Connally
David Wallace&nbsp
Adrienne (Powers) Baitinger
Pat (Songer) Stewart
Karen (Kloss) Vander Putten
&nbsp
&nbsp
&nbsp
&nbsp
If you would like a link back to your own e-mail or website, let me know.
If you would like to get in touch with someone on the list who doesn't have a link, send me an e-mail.
Sixty-nine grad, Annie (Green) Connally, has started her own website for the Pershing Alumni Association. &nbsp It features many pictures from Pershing events as well as personal pictures submitted by alumni. &nbsp Joining is free, and, in my opinion, worthwhile. &nbsp Click here for Ann's website.
After my graduation in January, I took classes for one semester at Wayne State. &nbsp When the summer of '69 came, I and a couple friends volunteered at the Woodward East project, which was refurbishing run-down houses east of Woodward and just north of the Fisher Freeway. &nbsp We plastered and painted inside several huge houses on Alfred and Edmund Streets. &nbsp I particularly remember working in a tall house on the north side of Alfred very near John R. &nbsp They would feed us lunch at Rapa House which was in the tall narrow row houses on the south service drive of the freeway east of John R - right where the parking structure for Tiger Stadium now sits. &nbsp On the project I met a girl from Royal Oak named Pat Didion. &nbsp She lived with her family in a beautiful house on a beautiful street - Vinsetta. &nbsp For our first date, I took her to a movie at the Studio North Theater (now the Magic Bag Theater.) &nbsp We saw the 1969 British movie if . . . . - a sort of all-muggle version of Harry Potter with guns instead of wands. &nbsp Pretty intense for those days.
---
Michigan
| | |
| --- | --- |
| | This self portrait was taken by me (of course) using the mirror in my West Quad dorm room. &nbsp On the wall behind me was a map of North and South Viet Nam, which had come as a supplement to the Detroit Free Press. &nbsp When I turned 18, my selective service draft number for March 19th was #189. &nbsp The prior year they had drafted young men with numbers up to 195, so I was worried. &nbsp I ended up receiving a "college deferment", meaning I would be eligible for the draft only after I completed my college degree. &nbsp The next year they decided that the deferments were unfair and stopped giving them. &nbsp As it turned out, they only drafted those with numbers up to 125 for my year. &nbsp For more info on draft numbers, click on "Codes" on my links page. |
---
For every epsilon there is a delta such that . . .
My parents wouldn't have been happy unless I did something special with math at U of M, so they pressured me into taking the honors calculus series (including diferential equations, that was four classes.) &nbsp I got pretty sick of the ε-δ proofs. &nbsp We even had to do the proofs which the textbook said were "beyond the scope of this book." &nbsp The truly over-the-top class was differential equations. &nbsp Take a class with lots of equations featuring lots of variables, and then make every single one of those variables a matrix! &nbsp I never wanted to see another matrix again in my life. &nbsp Of course, all of those matrices required even more variables for all of the subscripts. &nbsp Our instructor would always start in with the Greek alphabet, and once he had exhausted all twenty-four of their letters (a normal occurence) only then would he use our alphabet. &nbsp I am not sure what his nationality was, but it didn't help anything that he would always call the numerator of a fraction, "the denumerator." &nbsp Diff-E-Qs may have been the class from Hell but I did learn my Greek alphabet. &nbsp I can rattle it off as fast as I can ours.
| Α | Β | Γ | Δ | Ε | Ζ | Η | Θ | Ι | Κ | Λ | Μ | Ν | Ξ | Ο | Π | Ρ | Σ | Τ | Υ | Φ | Χ | Ψ | Ω |
| --- | --- | --- | --- | --- | --- | --- | --- | --- | --- | --- | --- | --- | --- | --- | --- | --- | --- | --- | --- | --- | --- | --- | --- |
| α | β | γ | δ | ε | ζ | η | θ | ι | κ | λ | μ | ν | ξ | ο | π | ρ | σ | τ | υ | φ | χ | ψ | ω |
They sure weren't in my Electrical Engineering curriculum, but I loved Intro to Chamber Music, and the two Music Theory classes I took. &nbsp Some of my other favorite courses were drafting/lettering, thermodynamics, computer programming, economics, and my third physics class:&nbsp quantum mechanics. &nbsp In the computer courses we used the MTS system and entered all of our code on punch cards. &nbsp On more than one occasion, I saw students almost reduced to tears when their entire decks of cards got chewed up by the card reader. &nbsp In chemistry I remember the first time we were doing an experiment with distillation. &nbsp The water pressure was extremely low, and I wondered if I could do something about it. &nbsp I was at the end of a long row of stations, and right by me, hidden between the shelf supports, was a valve. &nbsp I gave its handle a big turn, and hoses shot off of everyone's equipment, spurting water everywhere, getting notebooks wet, and making a mess. &nbsp I quickly turned the valve handle back, and tried to act as surprised as everyone else. &nbsp Of course I liked my electronics classes, too. &nbsp It was fun being introduced to impedance, admittance, capacitance, elastance, resistance, conductance, inductance, and reluctance. &nbsp I have written about engineering elsewhere on this page and on the Music page, and I do intend to write more.
| | |
| --- | --- |
| | |
West Quad, the dormatory where I lived for awhile, was its own mini-universe. &nbsp I made many friends, especially in Adams House where I was elected President one year. &nbsp During my "administration" I organized the purchase of a pool table for our recreation room. &nbsp One time four of us "borrowed" a piano from one of the dorm's music practice rooms and carried it up two flights of stairs to our house lounge where we already had a piano, so that Mike Reed and I could more easily play four-hand music. &nbsp The two pictures above are the guys who lived on my floor in Adams House. &nbsp On the left, I'm the only sleeveless one, on the right, I'm holding my right wrist with my left hand. &nbsp I forget the name of the kid at the far left of the left picture, but if I ever went to work wearing an outfit like that, my students would be talking about it for whole rest of the school year.
The dorm's cafeteria was a great social scene and a place to get into mischief, too. &nbsp For example, on a couple of occasions we took the top off one of the large sugar shakers, placed a napkin over it, inverted it, pulled out the napkin, blew away any sugar off the table, and placed the top on top of the bottom, so it looked just like a normal shaker. &nbsp This would be done just before leaving the cafeteria. &nbsp It was reward enough just to imagine the surprise of the poor student who would later pick up the shaker and find its entire contents spread out on the table.

The dorm had two large four-story courtyards that featured some incredible swirling wind patterns. &nbsp Lightweight balsa or paper airplanes could remain airborne for huge amounts of time there. &nbsp It was fun playing with multiple frisbies in the couryards, too.
Time didn't stand still while I was at Michigan - it went backwards. &nbsp After years of use, our old plug-in kitchen clock developed the quirk that whenever the power was turned off and back on, it would start running backwards. &nbsp I removed the clock from its case, and used it at college for years in backwards mode. &nbsp There were no numbers on the face to go by, just twelve dots. &nbsp I got quite good at reading the clock at a glance.
The topography of U of M's central campus is that of a hill in the middle of a bowl. &nbsp Any cyclist who lived on central campus, such as me, had to be well aware of that fact. &nbsp No matter which direction I might ride, every single one of my bike rides would end with me riding uphill. &nbsp Ann Arbor's hilly landscape was well suited for the running that I wanted to do during my last years at school. &nbsp I purposefully mapped out a course with a bunch of uphill climbs. &nbsp One route that I like to take in the late evenings started out on South University. &nbsp I would head out to the Arboretum, climb over the locked gate and run all the way through to the bottom, climb out, and scale the huge hill behind the hospital on the way back home. &nbsp When I ran through the Arb, and it was dark, and there was no one else around, and the path went right by the cemetery, I always wanted to look behind me, but I would be too scared to do anything but go fast.
While living in West Quad, I graduated from playing ping pong to playing table tennis. &nbsp In the Adams House rec room we had a table where we honed our "skills." &nbsp We found out about using inverted rubber on our paddles. &nbsp The surface would be so sticky that it was impossible to drag a ball across the paddle without the ball turning. &nbsp With those paddles it was easy to put some wicked spin on the ball. &nbsp It was fun playing on the intra-mural table tennis team. &nbsp We even thought of ourselves as "serious" players.
After college, I was brought back to reality when Norbert Kamkinski and I went to cavernous Hall D of Cobo Hall to play table tennis. &nbsp There were dozens of tables set up, and we observed people of all ages who were standing 20 feet back from the table and smashing the ball back and forth. &nbsp We were definitely out of our league, but it was fun playing there.
I made many good friends in Ann Arbor. &nbsp Besides my gang whom I mention below, I have especially fond memories of Mike Reed, Neal Clinthorne, Norb Kaminski, Gerry Todd, Dan Lenarden, Donna Noffze, the gangsters in the photo: &nbsp Neal Nation, Tim Hoehn, and Kevin Gillespie, and especially my two girlfriends: Charlene Crittenden, and lovely Becky Underwood.

Do you remember when the State of Michigan lowered it's drinking age to 18 for awhile? &nbsp I sure do. &nbsp It was while I was at U of M - January of 1972 to be exact. &nbsp The reason it's easy to remember is because it was a scant two months before I turned twenty-one. &nbsp Along with all of my college pals my age, I was really pissed. &nbsp Here we were, just about to reach the drinking age, and all of sudden they were going to let all of these kids drink. &nbsp They couldn't wait until after I turned twenty-one, it had to happen just before, robbing my special birthday of some of its meaning. &nbsp Talk about unfair.
I'm taking a break from reading The Hobbit in my South Quad dorm room. &nbsp Photographed by Becky. &nbsp The bedspread was from Stangers. &nbsp I think the posters and lamp came from there, too. &nbsp Remember that great store? &nbsp They had two locations around the corner from each other - one on State Street, and one on North U.

I was fortunate to be part of a gang of close friends at U of M. &nbsp In this picture is the core of that group: &nbsp me, Jamie Johnson, Harvey Balthaser, Dave Bradley, Nancy Bradley, Scott Hotchkiss, Sharon Adams, and behind the camera, Nancy Crawford. &nbsp It was Ocotober 19, 1972, and the eight of us had purchased tickets to see Cat Stevens at Masonic - but how to get there from Ann Arbor? &nbsp Being the only one who was twenty-one yet, I rented a station wagon and drove us to Detroit. &nbsp We had time before the concert, so on a whim we went to Windsor where this picture was taken. &nbsp I can guarantee you that no one was carrying a passport or even a birth certificate then.
---
Random Engineering
This section will be a collection of stories about problems that were solved by inspired thinking. &nbsp I will add stories whenever they pop into my memory.
---
In the nineteen years that I worked at my family's motor oil business, I spent a great deal of time working - in various capacties - in the large warehouse. &nbsp There we blended oils of many types and packaged the oils in 55-gallon drums and other containers. The warehouse had a ceiling that varied from 12 to 14 feet above the floor. &nbsp There were seven large windows on opposite walls very near the ceiling, which gave light, but were far too high to offer a view. &nbsp The other two walls each had an eight-foot square overhead door where trucks could be loaded and unloaded. &nbsp In the summer, the warehouse, with its flat roof could get quite warm, so it was not unusual for both of the overhead doors to be open all day long to permit airflow. &nbsp I don't think a single year went by that we did not have at least one occasion when a bird would fly into the warehouse through one of those large doors. &nbsp Recalling the roach hotel slogan, when birds checked in, they did not check out. &nbsp The bird could never make its way back outside because it just flew up at the ceiling back and forth between the seven windows where it could see the light of the sky.
Then it became the duty of the two or three of us who were working in the warehouse to try and help the bird regain its freedom. &nbsp Not an easy task! &nbsp
More to come!
---
When I would do projects around the house - which has been, basically, all the time - I would frequently have one or the other of my sons watch me. &nbsp I would talk them through the steps. &nbsp I figured it was very educational. &nbsp At a time when Nate was pretty young, I wanted to change the shut-off valve to the water heater. &nbsp It was the old-style valve with a handle that had to be turned a bunch, and on top of that, it did not shut off 100 percent, anyway. &nbsp I bought a nice, new quarter-turn valve to replace it. &nbsp I summoned Nate so he could watch all the steps, including the collecting of the necessary tools for the job. &nbsp As I got the blow torch, I showed Nate that I had two blow torches, and showed him the differences between them. &nbsp Nate enjoyed watching the precise flame coming out of the torch. &nbsp I heated up the old valve, holding the valve with Channel-Locks to pull it free once the solder melted. &nbsp Only trouble was, it wasn't all melting and the valve was not coming free. &nbsp There may have been water in that large 3/4-inch pipe, close enough to the joint that was soaking up the heat. &nbsp Now here comes the good part. &nbsp Nate, my little engineer came up with the solution! &nbsp "Why not use both blow torches, dad?" &nbsp He was so smart! &nbsp I lit the other torch, handed it to him and showed him how to get the proper part of the flame on the joint. &nbsp With each of us on opposite sides of the pipe, the valve broke loose right away. &nbsp That story just makes me feel so good!
In recent years, I gave Nate some hands-on copper pipe practice. &nbsp I wanted to replace the old compression-fit valves with quarter-turn solder-ons for the toilets in the master bath and guest bath. &nbsp I had Nate watch me do the entire job in the guest bath from cutting off the old valve with a hack saw, to turning on the water and testing. &nbsp Then it was his turn to do the master bath. &nbsp He did the entire job, and it has worked fine ever since. &nbsp That's my boy!
---
April Fool
It has since become an annual event, but on Saturday, April 1st, 1972, it was a huge collection of unscripted craziness that was taking place on the Diag at U of M. &nbsp Any spring Saturday in a college town could provide that sort of scene, but the occasion of the Hash Bash promoting the legalization of marijuana use in Michigan took the bizarreness to new heights. &nbsp Armed with my Kodak Instamatic camera I was looking for a way to capture as much of the wild scene as I could in one photo. &nbsp My eyes fell on the wide steps of the Grad Library and the tall windows above them. &nbsp I went into the practically deserted library and surveyed the possibilities for access to those windows. &nbsp The windows were located in a large reading room on the second floor, above a tall "wall" of bookshelves with a protruding top ledge that made climbing them unlikely. &nbsp I moved some chairs and dragged a large table over to the shelves, placed one of the chairs on top of the table, and I was up! &nbsp The heavy windows opened outwards, and I hadn't counted on the decorative railings that prevented the windows from opening any more than about one foot. &nbsp There was nothing to do but to squeeze out through that small gap and stand on top of the railing leaning back against the bricks. &nbsp The view was great, but I didn't get to enjoy it for five seconds before people spotted me. &nbsp Someone below me on the Diag just had to shout in a loud voice, "Don't jump! &nbsp I've got your wife and kids on the phone." &nbsp Almost instantly, everybody down there was at least looking at me, if not pointing. &nbsp I snapped one fantastic picture, and decided it might be time to leave. &nbsp I hope the library staff forgave me for not replacing the table and chairs. &nbsp Sadly, I have not been able to find that photograph yet.
---
Downtown
When I moved out of the family house on Hildale, I knew exactly where I wanted to live so I headed straight downtown to Lafayette Park. &nbsp Mom had taken Lex and I to visit a friend of hers at Lafayette Towers a couple of times, and we swam there in the huge pool on the roof of the parking structure. &nbsp That's the place where I wanted to live. &nbsp When I drove to Lafayette Park, I got off of I-75 on Lafayette, and stopped at the first tall building I saw - the one called "1300." &nbsp They showed me some nice apartments, but I knew it wasn't the right place because the swimming pool didn't look right. &nbsp Later mom explained to me where we had visited before and how to get there. &nbsp I returned to check out Lafayette Towers. &nbsp They showed me #1502 in the East Tower, and I moved in. &nbsp &nbsp I moved in March of '76 just before a huge storm of freezing rain left tons or houses without power, including the one I had just left. &nbsp My own family was one of the last to have power restored, over one week later. &nbsp I lived at #1502 for four years. &nbsp After I met Kathie, we moved to a two bedroom apartment in the West Tower, #1411, and lived there for one year. &nbsp Then we bought a co-op in nearby Hyde Park. &nbsp The move from the Towers was so short, I recall using a shopping cart to wheel some tall plants and other items to our new home. &nbsp We lived in Hyde Park for three years, but I lived there for four. &nbsp I moved to my current co-op a few weeks after the Tigers won the World Series - November 1, 1984. &nbsp Pretty soon, the address I have now will be the one I've have lived at the longest. &nbsp I never expected that would happen.
In five years, I took many photographs of the Ren Cen from my Lafayette Towers windows. &nbsp I have some real nice time-exposures of the fireworks, a picture of a double rainbow, with the primary one ending at the hotel, and construction photos from when the hotel was shorter than the office buildings. &nbsp But this has to be my favorite Ren Cen photograph. &nbsp A super dark band of clouds was moving through downtown from west to east, and the sky was full of contrasts. &nbsp I set up the camera on the tripod, shut the lens way down, and left the shutter open for a couple minutes not knowing what I might end up with. &nbsp It was shear luck that this lightning occurred during that time. &nbsp I wonder if GM had been in the Ren Cen then, might we have had an electric car in production decades ago?

I take ownership in the Renaissance Center. &nbsp It was under construction when I moved downtown, and my family's business was involved. &nbsp I personally blended the hydraulic oil that our customer, Ace Concrete Pumping, used to power their pumps which pumped the concrete that became the floors of the Ren Cen. &nbsp Ocassionally we delivered 55-gallon drums of hydraulic oil right to that site.

Here's a view of Windsor from the roof of the Renaissance Center's hotel. &nbsp (Notice the barge loaded with railroad cars - that service ended long ago.) &nbsp What was I doing on the roof? &nbsp It was the last day of April in 1977, and the Ren Cen had just opened. &nbsp I had a fairly new camera, and I was looking to get some nice photos. &nbsp I went up the hotel elevators to the top floor - the 70th. &nbsp A guard posted outside the elevators said there were no views available, and asked me to go back down to the lobby. &nbsp I knew there wouldn't be 70 guards posted, so I went down to the 69th floor and got off. &nbsp True, there weren't any views unless you were in one of the hotel rooms; even the stairs had no windows. &nbsp So I started climbing up the stairway, past the restauraunt floors: 71, 72, 73, and finally an open door and the roof!
I couldn't believe it. I was on the roof, and I was all by myself. &nbsp The center of the roof was dominated by a large round room containing all the elevator machinery, and its door was open, too. &nbsp After walking all the way around the elevator room to make sure nobody was there, I started shooting pictures in all directions. &nbsp I shot about two rolls, and I was glad I had brought my telephoto lens. &nbsp With the telephoto lens I was able to take a picture of Lafayette Towers in enough detail so that I could pick out the windows of my own apartment. &nbsp The glass-walled restaurant elevator extended about twenty feet above the roof, and I took a picture of my own reflection to prove that I had been there. &nbsp Two weeks later, on the twelfth of May, I returned and, once again, found an open door and an empty roof. &nbsp I took some more pictures, including the one below. &nbsp I did try to go back one other time, but then the door was locked, and I took that as a signal to quit.
I get the creeps just thinking about taking this picture. &nbsp Reflexively I push back in my chair. &nbsp As you can see in the photo (above, right) at the edges of the Ren Cen roof there was only a tiny ledge - hardly one foot high. &nbsp There was no railing; just 700+ feet straight down to certain death. After double and triple checking to make sure there were no other people around, I lay down on the roof and inched my way forward to the edge. I kept looking back over my shoulder to make sure nobody was sneaking up. &nbsp Once my head was over the edge so I could look straight down through the camera lens, I took this picture looking down at a 38-story building (Tower 200.) &nbsp Afterwards, I was practically shaking. &nbsp I guess my motto in those days must have been, "Some day I'll look back at all this and think I was nuts." &nbsp I do.

What was I thinking??? &nbsp &nbsp Did I really do that???
---
My Godchild — Clare
| | |
| --- | --- |
| Bridget, Maureen, Tom, and me - Clare's Godparents and parents at her baptism. &nbsp On July 15, 1986, the four of us attended one of the last concerts at the Fox Theatre before it was closed for major renovations. &nbsp We heard the incredible music of the legendary Van Morrison. &nbsp His warm-up act was the great jazz/blues pianist/singer, (the late) Mose Allison. | Later, it was fun and easy babysitting for Clare. &nbsp She was perfectly content to read the newspaper! |
| | |
| --- | --- |
| On the porch of the house where she grew up on Leverette Street. | Clare's wedding to Stephan Vitvitsky on July 14th, 2018 at the Scarab Club. |
---
Friends
Back in the good old days, when one could skate in downtown Detroit for free, I used to stop at Hart Plaza on the way home from work in the winter months and skate for an hour or two, twice a week. &nbsp It was there that I first met Marcia who was skating with her thirteen-year-old daughter, Heidi. &nbsp A few years later, when Heidi was a high school student at Cass Tech, my uncle Gerry was her art teacher. &nbsp The picture, taken at my wedding, shows Heidi and her mom talking to my uncle. &nbsp Sorry about the camera angle, Marcia.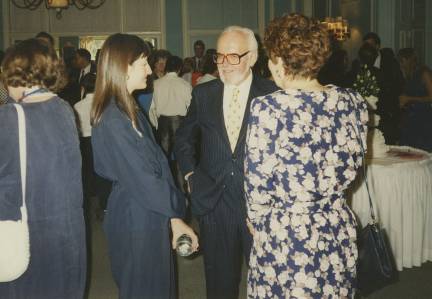 If you know my good friend, Marcia P., it wouldn't surprise me. &nbsp It seems as though she knows everybody in the Detroit area. &nbsp Over time, Marcia has taken on the role of matchmaker and her success stories have been chronicled in local magazines on more than one occasion. &nbsp Whenever I would get invited to one of Marcia's parties, I looked forward to it eagerly. &nbsp I would always meet the coolest people. &nbsp Once, in the morning's Detroit Free Press, there had been an article about two Polish sailors who defected by jumping ship in Detroit, the day before. &nbsp Guess who showed up at Marcia's party the same night, speaking Polish? &nbsp Also at that party there were members of the avant-garde group, Theatre Grottesco, and some people cryptically known as "the Germans." &nbsp At Marcia's parties I sometimes felt overly ordinary. &nbsp
Thanks, Marcia, for introducing me to Mary Z. and so many other great people. &nbsp It was in the kitchen at Marcia's house, in fact, on June 10th, 1990, that I met Theresa, whom I ended up marrying in 1993.
Backing up to the fall of 1984, Tish G. and I were both attending Christ Church and we began dating. &nbsp On one of our early dates, I took Tish to her first-ever baseball game. &nbsp My sister and her friend, Donna were with us, too. &nbsp And what an introduction to baseball! &nbsp It was October, game five of the World Series, and our four seats were in the upper deck bleachers. &nbsp Kirk Gibson hit his famous home run, and the Detroit Tigers had won the World Series. &nbsp As soon as the game ended, thousands of people stormed the playing field. &nbsp Some of the fans were ripping up hunks of sod and tossing it into the stands. &nbsp We each got some Tiger Stadium grass to take home. &nbsp Outside the stadium, the streets were a wild party scene, too, and we had to walk all the way down to Fort Street by the main Post Office, where I had parked.
| | |
| --- | --- |
| | Tish introduced me to some restaurants that have become my favorites. &nbsp One time, on the spur of the moment, Tish said let's go to Giovanni's. That wonderful family-owned Italian restaurant sits in an out-of-the-way neighborhood of southwest Detroit. &nbsp It has been visited by many celebrities including Frank Sinatra. &nbsp Twice the restaurant has been destroyed by fire, and (fortunately) twice been rebuilt. &nbsp Another place we liked to eat was a little Mexican restaurant on Harper Road called El Charro. &nbsp Now my sons and I enjoy going there occasionally for lunch or dinner. |
| | | |
| --- | --- | --- |
| | During our time together, Tish took classes at Wayne State and earned her teaching certificate, and I'm glad she did. &nbsp When it came time for me to make a career change, thanks to Tish's example, I realized I could do the same thing, and so I did. &nbsp For one of her WSU classes, Tish had an assignment for which she visited several downtown Detroit Churches. &nbsp She asked me if I would take some photographs at each church. &nbsp Thus a new mini-hobby was born. &nbsp I got the idea that it might fun to take pictures inside all of the downtown churches and make a book of them. &nbsp I figured that many people pass these churches daily on the way to and from work and might wonder what they look like on the inside. &nbsp While I never did publish a book, I ended up with two large photo albums that many of my friends and neighbors have enjoyed looking through. &nbsp Some of the churches that I chose to photograph were a bit outside the definition of downtown, but I included them because I knew they were beautiful. &nbsp At each church I would shoot a couple rolls of film both inside and out. &nbsp On the inside, I would usually try to get as many lights turned on as possible, either by asking, or just doing it myself. | |
Over the next year, circa 1988, I took pictures at Saint John Cantius, Holy Cross (Hungarian), Holy Redeemer, St. Anne, Saint Boniface, Trinity Episcopal, Holy Trinity, Fort Street Presbyterian, the I Am Temple, Cass United Methodist, First Unitarian Universalist, Saint Aloysius, Saint Patrick, Central United Methodist, Saint John Episcopal, First Presbyterian, First Congregational, St. Paul Episcopal Cathedral, Mariner's Episcopal, Saints Peter and Paul, Saint Mary, Holy Family, Annunciation, Saint Josaphat, Christ Episcopal, Trinity Lutheran, Sacred Heart, Saint John-Saint Luke, Sweetest Heart of Mary, Saint Joseph, Saint Albertus, Calvary Baptist, Saint Elizabeth, Saint Bonaventure, Church of the Messiah, Saint Thomas, Saint Charles Borromeo, Christ Lutheran, Jefferson Avenue Presbyterian, and Church of the Annunciation. &nbsp I also had Saint Martin on my list, but it closed before I got an opportunity.

The project was a lot of fun, and I got to see some amazingly beautiful windows and too many architectural details to mention. Some of those churches are now closed, and at least two, Saint Boniface and Saint Thomas, have been razed. What I considered my greatest triumph, was getting myself into the I Am Temple, a former Scottish Presbyterian church. (It's the white church across the freeway from Cass Tech.) &nbsp The woman who reluctantly allowed me into the church on my second try, informed me that "We are not a cult."
---
The Wives
| | |
| --- | --- |
| Katherine Rose Beck &nbsp February 3rd, 1980 - December 9th, 1983 | I met Kathie playing volleyball at Christ Church Detroit. |
| | |
| --- | --- |
| Theresa Bernadette Zajac &nbsp August 14th, 1993 - March 25th, 2009 | I met Theresa in the kitchen at a party at Marcia's house. |
---
Wayne State
When I graduated from Pershing in January, there were many months to pass until I started school in Ann Arbor. &nbsp So I enrolled at Wayne State for one semester and took a full load of 17 credit hours. &nbsp My classes were calculus, chemistry, French, and a social sciences survey class. &nbsp I received a grade of A in the calculus and chemistry classes, and a B in the other two. &nbsp It was fun going to Wayne State. &nbsp I liked getting lunch in Kresge Court at the DIA or at the coney island on Cass. &nbsp (Figures I'd remember the food best.)

In 1990, when I decided to go afer my teaching certificate, before I could take education classes, I had to take the classes necessary to earn the equivalent of a degree in mathematics to teach it at the high school level. &nbsp I decided that my major would be mathematics and my minor would be computer science (programming.) &nbsp My counsellor at WSU (seemingly as a side thought) asked if I had ever taken any classes at WSU in the past. &nbsp I told him about my one semester a couple of decades earlier. &nbsp He said that it was lucky that I had taken those classes. &nbsp I was able to reinstate my WSU enrollment as a freshman and take my undergrad classes at freshman prices.

In those days it was my habit to sit in the back of the class and lean back on two legs of the chair or even of a desk. &nbsp One time I walked all the way to my car after a computer class before I noticed that my wallet was missing. &nbsp I ran back all the way back to the classroom to find one of the other students waiting for me with my wallet. &nbsp The experience would have taught anybody else not to lean back. &nbsp I was just glad that there are so many good people in the world. &nbsp The math classes were fun - I got an A in all of them. &nbsp But what I really loved were the programming classes. &nbsp I only regret that my timing was such that I was just too early to get in on the programming language switch from Turbo Pascal to "C" - the language that is in widespread use today.

I did, however, love programming in Pascal, and it quickly became my hobby as well as my curriculum. &nbsp I went way over the top on my assignments - never got anything less than 100% - and started thinking up programs to write for my own exercise. &nbsp I wrote programs to draw mazes, play tic tac toe, Connect 4, multiply numbers of up to 1000 digits, take square roots to thousands of decimal places, do reflections and rotations of anything the user drew on a coordinate plane, calculate the first occurence of gaps of each size between prime numbers, play the game "set", show calendars with the proper days of the week going hundreds of years forward or backward, calculate the number of days between two given dates, calculate biorhythms, and a whole bunch of arcane math programs.

To me, programming was less technology than creativity. &nbsp When you write a program, you are in total control of how it is going to work, and how it is going to look; you chose the colors, the arrangement of images on the screen, what keys do what, and so on. &nbsp Sometimes designing the visuals of a program took more time than designing the mechanics. &nbsp Thus I spent a whole lot of time in front of the computer in our basement, and enjoyed doing it. &nbsp Our computer was an old 386, and I programmed in the DOS environment. &nbsp I didn't even have a mouse on that computer and I used it that way for years. &nbsp My word processing was strictly from the keyboard in WordPerfect. &nbsp I liked that software (better than WORD while I was using both.)
---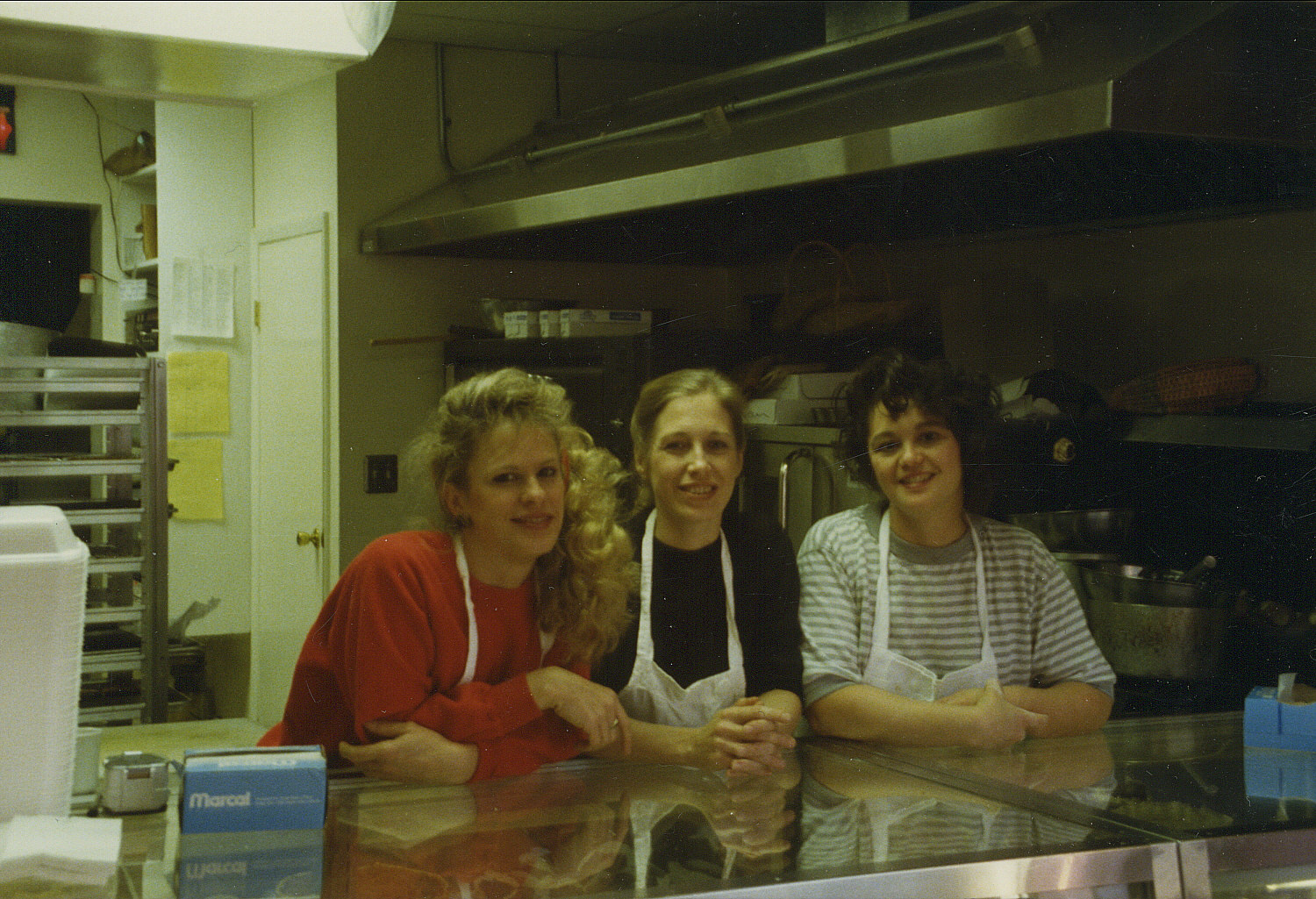 Bakeries
I consider myself to be a bakery aficionado. &nbsp I try them all, and I know which ones have the quality goods. &nbsp Apparently not every one shares my opinions, though, because three of my favorite bakeries are now gone. &nbsp The all-time best bakery I have ever experienced was the Quality Bakery on Main Street near Williams. &nbsp There was more than one time I made the drive to Ann Arbor just to shop at that bakery. &nbsp Number two on my list was the Macchus Bakery in Birmingham.

When it was in operation, I also ranked Susan Hoffman's Bakery in Greektown as one of the best. &nbsp Not only did Susan have good pastries, she had good looking employees - herself included. &nbsp When I would ride my bike to work, which was just about every day, I would stop in at Susan's on the way home as much to socialize as to pick up some tasty treats. &nbsp The bakery girls included Pam, Penny, and (in the picture) Susan, Robin, and lovely Michelle.

Now Hermann's Bakery in Royal Oak, and Sweetheart Bakery in Harper Woods are my favorites, but I also like the Milano Bakery near Eastern Market which is a quick bike ride from my house. &nbsp Other bakeries I like include Ackroyd's in Livonia, Astoria in Greektown, La Gloria on Bagley, Bommarito's on Mack, East Detroit on Nine Mile, Iversen's in Dearborn, and National on State Fair.
---
It's all Relative
Half-Dozen Cousins
I only have six first cousins, and they all appear above. &nbsp On the left are the Becks: &nbsp David, Nancy, and Judy. &nbsp Dave's wife, Barbara, is sitting next to me, and my Aunt Jeanne and mom are in the picture, too. &nbsp My dad and his brother, Roll, had died long before this picture was taken, and my aunt and mom have died since. &nbsp I always say that there has yet to be a person born that hasn't eventually died - except for those who haven't died yet. &nbsp (Don't bother saying "duh.") &nbsp On the right are my mom-side cousins, the Prokpowicz kids: &nbsp Pete, Gerry and Greg. &nbsp With Alexis in the picture, it is also a picture of my grandmother, Babi, and all her grandchildren.
Lean Times
Christmas 1999 at the home of Theresa's niece, Amy. &nbsp I was enlisted to take the traditional Christmas picture of Theresa, her two sisters, and their families. &nbsp The tripod was all set, I had gone through the yearly ritual of once again figuring out how to use the camera's timer, and the group was positioned. &nbsp All that was left was to simply push the button on top of the camera, and hurry back to get in the picture. &nbsp The only problem was I pushed the button on top of the camera way too hard, causing the camera to tilt down at an angle. &nbsp Since the timer was running, it was too late to fix it. &nbsp A bunch of us started laughing, and someone said, "Everybody lean the other way." &nbsp We ended up with this silly picture that most of us liked. &nbsp The Prokopowicz family photo was taken at the Detroit Boat Club.
Nick before and 15 years after

It's not fair that he was already taller than me when he was thirteen. &nbsp The good thing is that I'm finally getting payback for all those years of carrrying him around. &nbsp Now I can do with Nick what my dad used to do with me. &nbsp All I have to do is imply that something is too heavy for him to carry and it's as good as carried. &nbsp I've been calling my sons "labor-saving devices" for years and they have truly lived into that description.
---
N8

It wasn't until years after my younger son, Nate, was born that I realized the existence of this cool coincidence. &nbsp The same letter-number combination (N8) that forms his name, is his birthday as well - November 8th. &nbsp Is that cool, or what? &nbsp I can only think of one other possible way for any name and birthday to coincide like that. &nbsp Can you?

Once Nate had us drive fifty miles for an appetizer. &nbsp Our family vacations would occasionally take us to Toledo, Ohio, where the boys (and their parents) liked visiting the COSI Museum. &nbsp We would stay for one night at a hotel with a pool, and find a nice restaurant for dinner. &nbsp One time we stayed downtown, right beside the Maumee River, and right across the river from us (walking distance across the bridge) was a Real Seafood Company restaurant. &nbsp Being familiar with the Ann Arbor version, we decided to give this restaurant a try. &nbsp It was an all-around fantastic experience. &nbsp The decor was beautiful, there was a good pianist playing jazz, and the food was superb. &nbsp I ordered an appetizer that Nate asked to sample. &nbsp He has been talking about it ever since. &nbsp It was a shrimp and crabmeat egg roll with ginger sauce, and it was truly delicious. &nbsp As soon as we returned to Detroit, Nate began lobbying for a return trip to the restaurant. &nbsp The idea certainly sounded good to me, and some months later we did go back for another overnight and another trip to the Real Seafood Company.
---
Powerless
Do you remember when the power grid crashed and there were massive power outages in Michigan, Ontario, and a bunch of States stretching to the East Coast? &nbsp I remember the exact day. &nbsp It was Thursday, August 14th of 2003 - the tenth anniversary of the day that Theresa and I were married. &nbsp I had made reservations at the restaurant Tribute and even arranged for a mid-week sitter for our sons. &nbsp We were looking forward to our first visit to that fine restaurant. &nbsp Just before I left work, there was a power failure, and I assumed that it was just a local thing. &nbsp I drove home to find that there was no electricity there either, and on top of that we had no running water! &nbsp At least the phone still worked, so I immediately called Tribute to see if they were open. &nbsp When I received no answer, I went back to my car and turned on the radio. &nbsp Dinner was definelty off - it was off everywhere. &nbsp With the water supply compromised, the restaurants of Wayne County had been ordered to remain closed. &nbsp Our electric stove was no help, and at that time we were "between barbecues." &nbsp The prospects for any sort of dinner were not looking good. &nbsp Fortunately our next door neighbor, Bill Stevens, invited us over. &nbsp We used his barbecue and dined al fresco at his house.

Eventually we did make it to Tribute for dinner. &nbsp I jokingly told our server about how the restaurant didn't honor our dinner reservations on our tenth anniversary. &nbsp They immediately brought us complimentary drinks, and proceded to bring more drinks between every course of the dinner. &nbsp It was a great dinner, but I don't know how I managed to drive home.

The reason we were between barbecues was that after years of heavy use and faithful service, our old Weber kettle had finally rusted through. &nbsp Charcoal, I decided was a pain in the ash, and I didn't feel like messing with cannisters, so natural gas was the choice for the replacement barbecue. &nbsp For a fairly long period of time we had no barbecue at all, because I didn't want to purchase a gas model until I was certain that I could successfully run a gas line from the furnace to the back yard. &nbsp I finally did complete that job. &nbsp I installed a ½-inch steel pipe, and now I use the gas Weber all the time. &nbsp It sits partly under the overhang of the roof, so it can be used even in a light rain or snow. &nbsp This barbecue never runs out of anything, and sometimes it's even self-cleaning (see below.)
---
Animals: &nbsp Domestic and Otherwise
There was a period of time when Theresa and I would know exactly why the motion-detector light was going on in our back yard. &nbsp Night after night a little short-tailed rodent was visiting our yard for a meal. &nbsp In those days I didn't need to check the drip pan on the barbecue - I knew that our little opossum would be licking it clean as a whistle. &nbsp I guess I could have warned him about the dangers of that sort of diet, but he seemed healthy enough, besides which he was saving me work! &nbsp I especially liked it when he (or maybe she) would amble slowly along the top of the wooden fence at the back of our little yard - it looked so cool.

When I lived in Hyde Park Cooperative, I had a cat, Brandy, whom I had "inherited" from a previous relationship. &nbsp The house had a refrigerator that was also inherited - from a previous era. &nbsp It worked fine, but maybe the insulation they used wasn't as good in those days. &nbsp From condensation, there were a bunch of ugly rust spots on top of the fridge, but I knew what to do about that. &nbsp I sanded all the rust off and painted the top of the fridge with a heavy coat of left over off-white oil-base wall paint. &nbsp Now, why didn't I know this was going to happen? &nbsp I went to the basement to put away the paint - it only took a minute, and came upstairs to find paw prints. &nbsp Oil-base paw prints all the way through the kitchen and onto the porous wooden parquet floor in the front hallway. &nbsp I think Brandy lost about four-ninths of his lives that day.
| | |
| --- | --- |
| When I first met Theresa she lived in an upper flat on Beaconsfield in Grosse Pointe Park. &nbsp Right about that time she had broken her foot in an accident, and I remember that I carried her up the long flight of stairs to her apartment on a number of occasions. &nbsp Also living in her home was a shy cat named Bok Choy who would promptly hide under a couch every time I visited. &nbsp After Theresa and Bok Choy moved to my house, she (Bok Choy) warmed up to me. &nbsp It took some time before she became more social with visitors. &nbsp I miss Bok Choy, that affectionate fluffy ball of black fur. &nbsp Since she didn't have front claws, we could let Bok Choy roam our little back yard without fear of her climbing over the tall wooden fence. &nbsp She loved to go out there and graze on anything and everything that was growing. &nbsp Once when we returned from an up-north vacation, Bok Choy was waiting at the back door, as usual, so we let her out for awhile while we unpacked. &nbsp It was night, and we hadn't turned on any lights in the living room. &nbsp A short while later she was ready to come in. &nbsp Theresa opened the door, in came Bok Choy with something large in her mouth and dropped the "present" at Theresa's feet. &nbsp When I heard Theresa scream, I came running into the room in time to see a baby bunny rabbit take off hopping toward the front door. &nbsp I raced to the door and opened it in time to let the rabbit out. &nbsp Bok Choy came tearing up and slammed into the closing door. &nbsp It was a good thing cats couldn't talk. &nbsp Some years after that, Bok Choy became seriously ill, and it was with great sorrow that we had to say goodbye to her. | |
We were catless for a long time. &nbsp It was a period when the only "pets" in the house were some fish. &nbsp We stopped buying fish when we realized that our purchases translated to a death sentence. &nbsp Our next cat, Sylvester, came to us from the Humane Society. &nbsp He had short white hair and some black markings. &nbsp My mom thought he looked a bit like a cow and started calling him "Moo." &nbsp Theresa adapted that to "Moo Shoo", and the name stuck. &nbsp Unfortunately, Moo Shoo was a card-carrying member of Litterboxes without Borders. &nbsp Two destroyed couches later, we had to return him to the Humane Society. &nbsp I drew the sad assignment of returning him. &nbsp On paper, Theresa's current cat's name is Liam, but everyone just calls him "kitty" if anything.
This picture from my back yard warrants some explanation. &nbsp About maybe six years ago, Theresa's family was at our house for Thanskgiving dinner. &nbsp We were using that large refrigerator known as the outdoors for some of our food and beverages. &nbsp During dinner, someone looked out the dining room window and couldn't help but notice that some squirrels were chowing down on what was supposed to be our dessert. &nbsp I ran outside looking for rocks and longing for the wrist-rocket I had as a teenager. &nbsp Meanwhile, the squirrels escaped without punishment. &nbsp Juli had made two pies, and one of them had been destroyed by our local rodents.

Sometime before the next family dinner, as I stood in my son's bedroom surveying the menagerie of animals populating his bed, this crazy idea popped into my head. &nbsp Why not use some fake animals to keep the squirrels away next time? &nbsp He had just the animals for the job - a pair of raccoon hand puppets. &nbsp Next year, with the raccoons on guard duty perched on wine bottles, nary a squirrel came near our desserts. &nbsp The raccoons have served on several occasions since, and they work for free.
---
Coincidences
When I talk to somebody I don't know - something I do all the time - the two of us will almost always discover some person, some event, or some sort of thing that we have in common. &nbsp In fact, I go out of my way to talk to total strangers, and both of my sons roll their eyes as they acknowledge that fact. &nbsp For example, when we're in the car and I pull up next to another car at a red light, if I start rolling down the passenger-side window, I will get an automatic "Don't dad!" from Nate.
For me, a big part of the fun of starting a conversation with a stranger is that I have absolutely no idea what direction that conversation might take. &nbsp Every time it's a mini adventure. &nbsp Admittedly, I take it to extremes - frequently eavesdropping on other people's conversations, looking for any topic at all to jump in on. &nbsp I get a little thrill when I do that sort of thing. &nbsp Frequently, that's when coincidences get discovered.
I've already mentioned some coincidences on this page, here are some more:
Before I was born, my mom taught typing at Miller High School in Detroit. &nbsp My second teaching assignment was at Miller (by that time, a middle school.)

The next school I taught at after Miller was the Youth Home School in the Wayne County Juvenile Detention Facility, which was then located at Warren and I-75. &nbsp I taught math to children who were incarcerated while awaiting trial or placement. &nbsp The school was then operated by DPS and children would automatically start classes the day after they arrived at the facility. &nbsp There was a constant turnover of students which offered a special challenge. &nbsp A Wayne County JDS (Juvenile Detention Specialist) would (theoretically) travel and remain with each class in the classrooms. &nbsp One JDS was Arlene Cornier, and she would sit in with one of my classes each day. &nbsp Whenever the students were working on an assignment, the two of us would talk about our young sons who were the same age. &nbsp I liked teaching at the youth home school, and I especially liked my principal, Mr. Cleovis Scott. &nbsp I hadn't been at the school quite a year when Wayne County built a new facility in Greektown, and decided to take over the operation of the school at the same time. &nbsp DPS transferred me to Frederick Douglass Academy on Chene north of Mack. &nbsp Meanwhile, my little one, Nate, began first grade at Detroit Waldorf School in Indian Village. &nbsp So, one day I arrive home from work, walk in the front door and there, talking to Theresa, stands Arlene. &nbsp We looked at each other, and the first words out of my mouth were, "What are you doing here?" &nbsp It turned out that our sons, Gabriel and Nathaniel, whom we used to talk to each other about, were in the same class at Detroit Waldorf, and best friends! &nbsp And if that wasn't coincidence enough, I later found out that my co-teacher of ACT prep at Marygrove College (he taught the reading class and I taught the math class) was Arlene's father-in-law (Gabe's grandfather.) &nbsp I have been teaching that ACT math class three to five times per year since 1995.

My ex-wife Kathie's parents were married on Wednesday, November 26, 1947, in Detroit. &nbsp My parents were married on November 26, 1947, in Detroit.

For decades, a certain young lady named Theresa Z. had the same family physician as did I, though we didn't know each other. &nbsp Dr. Albert Kuhn's office was at 635 West Seven Mile - almost across the street from my elementary school, Greenfield Union. &nbsp I can still clearly picture his waiting room with the huge swordfish on the wall. &nbsp Through all those years, there had to be times that Theresa and I both sat in the same waiting room, little dreaming that some day we would be married to each other.

My first joint purchase with Theresa was a mini-series of DSO tickets. &nbsp Orchestra Hall had been recently refurbished, and donors had sponsored commemorative name plates on the fronts of the seats. &nbsp At our first concert we discovered that our seats were right in the middle of a group of six seats bearing the names of all four of my grandparents, and my uncle's parents, too. &nbsp I had no idea that my parents and aunt and uncle had even sponsored any seats.

I've lived at four different addresses in the Lafayette Park area. &nbsp My previous address was my birth year. &nbsp My girlfriend, Camille's previous address was her birth year, too.

My former girlfriend, Tish, and my former wife, Theresa, switched streets. &nbsp Theresa lives on the street that Tish lived on when I first met her. &nbsp Tish later moved to the street that Theresa lived on when I first met her.

In one of the first conversations I had with my former girlfriend, Lisa, we talked about where we had lived. &nbsp When I found out that her previous residence was in cozy Grosse Pointe Shores, I told her that my aunt and uncle lived in the Shores, too. &nbsp We quickly discovered that my girlfriend raised her children directly across the street from my aunt and uncle, at whose house I have always been a frequent visitor throughout the last forty years. &nbsp (Her ex and her son still live across the street.) &nbsp It was her house I would always park in front of, and her driveway I'd use to turn my car around. &nbsp If someone had told me then, that some day . . . I would have said, "NFW."

For decades, my favorite beer has been Dos Equis (Mexican for two Xs.) &nbsp Now, two Xs is precisely what I have - not that I'm happy about it.
---
Coincidence?

For my personal logo, I have chosen the bipolar junction transistor (BJT) pictured at the right. &nbsp This transistor was invented at Bell Labs in 1947, used hugely for decades - even in early computer chips, and is still widely employed in electronic circuits today. &nbsp The three terminals of the device are abbreviated: &nbsp C, E, B - my initials. &nbsp Even the syllables are the same: &nbsp collector and Christopher both have three; emitter and Emerson both have three; base and Beck both have one. &nbsp Add in the fact that my father's college degree was in electrical engineering (mine, too) and it almost sounds like a plan. &nbsp On the other hand, Beck and Emerson were family names. &nbsp Still . . .
&nbsp

Now that I have mentioned him, my dad's name was Forrest Beck, Jr. &nbsp I could have easily been a Forrest the third. &nbsp Whew! &nbsp My mom and all of my dad's friends called him Forrie. &nbsp Dad grew up in this home on Atkinson just west of the Lodge Freeway, attending Northern High School and Wayne State University. &nbsp Thanks to his EE degree, dad received a commission into the US Army as a Lieutenant. &nbsp He served in the Signal Corps where he was promoted to Captain and put in charge of a group of fourteen men. &nbsp Together, they erected communications antennas on tiny islands all over the South Pacific. &nbsp The men and their supplies were flown in on small airplanes frequently landing on grass airstrips. &nbsp They would also erect wooden silos around the antennas so that they couldn't be spotted from the air by enemy forces. &nbsp Lex and I used to love it when dad would tell us stories from his army days.

Growing up in the pre-calculator era, my dad taught me how to do math the old fashioned way. &nbsp He was fluent on the slide rule, and he showed me how to use it for multiplication, division, and logs. &nbsp I got my own slide rule when I went to college, but that was precisely when calcualtors were becoming inexpensive, so my slide rule ended up in a box - I still have it, and dad's, too, along with his HAM radio license letters written on the case. &nbsp Somewhere along the way, dad taught me how to take square roots - long division style. &nbsp I still remember how to do that. &nbsp If you want the square root of, say, 253.671 to, say, 15 decimal places, just give me a few sheets of paper and a pencil. &nbsp When I was writing Turbo Pascal math programs for fun, I wrote one that would take the square root of decimal numbers to 1000 decimal places, using that exact same algorithm.
Sadly, dad died at the young age of 68, and my sons did not have the pleasure of knowing him. &nbsp So now I try to keep dad's memory alive by frequently remembering him to my sons. &nbsp He had a great sense of humor and a bunch of phrases and sayings that he liked to use. &nbsp The one I remember best is this. &nbsp Dad was always repairing things - gluing, soldering, fabricating, and the like (that could describe me too.) &nbsp On any occasion when something crashed to the floor, dad would automatically shout: &nbsp Save the pieces! &nbsp Now I reflexively do the same, and it gives me great pleasure to see that my son, Nicholas, has developed the same habit.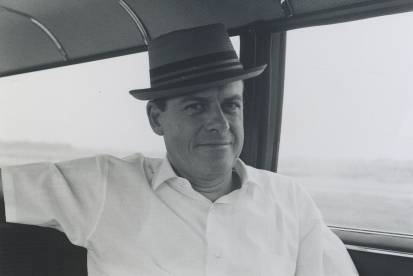 As I remember them, I will list more of my dad's sayings.
Another country heard from . . . &nbsp Especially when my sister or I would butt into a conversation from an adjoining room.

Says here &nbsp Dad would frequently interject this little disclaimer. &nbsp It was his way of saying "at least, that's the plan."

Steamer on the port side &nbsp All it took was an especially loud sneeze to elicit this reference to a fog horn from dad.

What's the good word? &nbsp This was dad's upbeat phrase of greeting.

SNAFU &nbspAn Army acronym that stands for: &nbsp Situation Normal - All Fouled Up. &nbsp When I was older, dad told me what the "F" really stood for.

Quit bumping your gums. &nbsp In other words, stop the unnecessary talking - usually applied to complaining.

Hay is for horses. &nbsp Guess dad wasn't too fond of "Hey" as a greeting.

For crying out loud. &nbsp We didn't know exactly what it meant other than dad was not happy.

Goofball, &nbsp Someone (particularly me or my sister) who was doing something that my dad thought uncalled for.

I want you to eat every carrot and pea on your plate. &nbsp We all chose to use the toilet, none-the-less.

She was only a stableman's daughter, but all the horsemen knew her. &nbsp No matter how many times dad said it, we would always laugh.

Blag-stab-it shugga-dugga-dooga &nbsp Dad's alternative to cussing when he hurt himself.

Dad would tell friends that his first girlfriend ended up eloping with an Irishman. &nbsp "Oh, really?" &nbsp "No, O'Riley." &nbsp Thanks to that joke, now whenever Nick or Nate or I say "Oh, really?" to anything, it is almost a guarantee that one of the other two (if not both) will answer, "No, O'Riley."
---
Just the Facts
My original intention for this page was that it would be a collection of miscellaneous stories about me. &nbsp Since it has gradually turned into an autobiography, I will add a few missing facts about me in this space as time permits.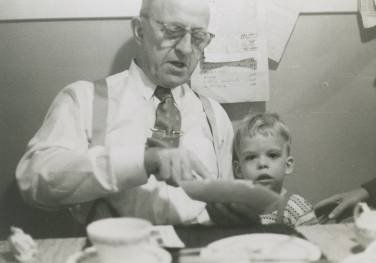 My dad's father, Forrest Beck, Sr., along with a business partner, Walter Ludlam, foundeded Detroit Oil Company and Naval Stores in 1932. &nbsp From downtown it moved to Miller Street, Cabot Street and eventually (in 1956) to Dearborn Avenue in Delray. &nbsp Various family members were involved, but it ended up belonging to my dad. &nbsp That's me with my grandfather. &nbsp He died in October of 1956 - so did my other grandfather.

When I couldn't find an engineering job that appealed to me, I began working at Detroit Oil Company in 1975. My dad became too ill to continue in the business, about 1981, and I took over the operations. &nbsp I did anything and everything at Detroit Oil, and my work truly did include engineering. &nbsp It's sad that the company had to close in 1993. &nbsp I enjoyed many aspects of that career.

Not long after I began playing volleyball at Christ Church I met Kathie. &nbsp We were married from 1980 to 1983 and did not have any children.

Over the years, I've served four different three-year terms on the (Southeastern) Citizens' District Council.

In October of 1990, I founded the Lafayette-Elmwood Association, an organization for information sharing among the cooperatives and condominiums of the Lafayette Park area. &nbsp The organization lasted for years, eventually morphing into The Riverfront East Alliance (Real.)

After student teaching at Southwestern High School, my Detroit Public Schools teaching career began at M. L. King Jr. (high school) in September 1994, and continued with Miller Middle School, Youth Home (high school), Frederick Douglass Academy (middle achool), Barsamian Prep Center (high school) and Clippert Academy (middle school) beginning with the 2011-2012 school year. &nbsp The following year I came back home to King High, where I started my teaching career.

Theresa and I became an item in 1991, and we were married for more than fifteen years, from August of 1993 to March of 2009.

My current status: &nbsp Ask Amy!
---
Metropolitan
The massive stone church that stands north of Grand Boulevard at 8000 Woodward, Metropolitan Methodist Church, was my church for eight years. &nbsp It was when I was eight years old that Metropolitan's new assistant minister, Rev. Robert L. S. Brown, moved onto my street with his family that included a boy my age. &nbsp Jerry Brown and I quickly became best friends, and I began attending church with his family every Sunday. &nbsp Attending a church was something completely new to me, but the fact that there were a bunch of kids in my age group helped make it fun.

With Jerry's dad being a minister, we would spend a big chunk of time each Sunday at Metropolitan. &nbsp Jerry would get his dad's key ring and as soon as the church service was over, we would go exploring that huge sprawling building. &nbsp We went up rung ladders through trap doors into crawl spaces over false ceilings and even above the curved ceilings of the two sanctuaries. &nbsp That building had an amazing number of nooks and crannies and rooms for organ pipe access, and whatnot. &nbsp Such fun!

Later in my years at the church they purchased a beautiful set of handbells. &nbsp Instead of recruiting adults to play them, us older teenagers were enlisted to be the bellchoir members under the direction of Ms. Kerrigan. &nbsp We had to wear gloves, of course, and I learned a lot about the bells. &nbsp I am proud that I was a charter member of that bellchoir.

Some of the goofy things we kids did at church included shuffling across carpeted rooms with leather-soled shoes and then touching another kid on the ear lobe with a huge static electricity shock. &nbsp One time we collected paper clips off of the church bulletins and made them into a monster chain that reached from one side balcony acrwoss to the other. &nbsp I learned my first Origami there - how to fold a shape that had a little hole that you could blow air into, and then it would pop up into a 3-D cube. &nbps We used the church bulletins for that, of course, and made tons of them.

In 1965, the church organized a mission to El Paso to fix up a Methodist Church that was badly in need of interior plastering and painting. &nbsp It became a youth group project, so I was one of a bus-load of teenagers that headed down to Texas for a couple weeks. &nbsp On the way we saw the Gateway Arch and took a night swim in the Oologah Reservoir in Oklahoma. &nbsp We worked hard but were treated to a couple of side trips, too. &nbsp I loved the trip into New Mexico, where we visited Carlsbad Caverns. &nbsp I remember climbing some of the rolling hills around there, and how amazingly beautiful the countryside looked.

But the real highlight for me was our walk across the Bridge of Americas into Ciudad Juarez. &nbsp We visited a big outdoor tourist-trap mall where I bought a couple souvenirs for my mom and sister. &nbsp There were about six of us boys and we were sticking together. &nbsp Soon we were approached by a group of local boys who asked us if we would like to buy some switchblades. &nbsp Well, hell yes! &nbsp We walked a couple blocks into the neighborhood, and all of us bought nice black-pearl looking knives that were a good five inches long, folded. &nbsp I remember thinking how cool it looked that some of the houses had walled back yards, and imbeded in the rounded mortar at the tops of the walls was colorful broken glass. &nbsp I had that knife for a long time until someone broke into my dorm room at U of M and stole it!

When I was sixteen, Reverend Brown was transferred to a Methodist church in northern Michigan. &nbsp My good friend disappeared - and so did my ride to church. &nbsp For the next twelve years I had Sundays off! &nbsp In 2009, Jerry was visiting Michigan, and it was delightful to see him again and compare our memories of those teenage days.
---
The Spiritual Life
Every Sunday I have a family reunion, and it takes place at 960 E. Jefferson at Christ Church Detroit. &nbsp It was volleyball that first brought me through the Church doors, but it was Kathie (thanks!) who finally got me through the doors on a Sunday. &nbsp That was in 1979, and I have been a part of the wonderful Christ Church family ever since. &nbsp Thank you, dear God, for leading me to my Church.

If you are spiritually hungry, I can personally recommend Christ Church as a place worthy of exploration. &nbsp If you come, you will be welcomed into a warm family that will never be described as homogeneous. &nbsp Everyone is welcomed; everyone fits in. &nbsp The Church building possesses a beauty that is awe-inspiring. &nbsp The service music is beautiful and inspring, as well. &nbsp God's word is applied to today's world in thoughful, intelligent and sometimes challenging sermons. &nbsp Thanks to Christ Church I look forward to Sunday mornings - kinda wish there were two Sundays per week! &nbsp There exist a variety of opportunities to get involved at Christ Church, if you wish to, both in the life of the Church and in outreach. &nbsp &nbsp Look me up if you come, and I will be happy to give you a tour and introduce you to people.
Now if that sounded like a commercial, that's because it was meant to be one. &nbsp Christ Church is just too good not to want to share with others. &nbsp Incidentally, the Church's denomination is Episcopal so that makes us Episcopalians, but don't worry - you will not be required to spell that, or even to pronounce it! &nbsp To navigate to the Christ Church website, please click here.

In 1980, I had been attending Christ Church for a little less than one year. &nbsp One December Sunday after the service I was alone in the sanctuary playing the grand piano. &nbsp Our superb organist-choir master, Malcolm Johns, came out of the choir room, walked over to the piano and said to me, "You're going to play that music at the family service on Christmas Eve." &nbsp I said, "What?!?" &nbsp Christmas was only a couple weeks away, but I actually did let him talk me into playing the Romanze movement from Mozart's Eine Kleine Nachtmusik as the prelude on Christmas Eve. &nbsp I was the "opening act" at that well attended service, and although I was quite nervous it went fine.
| | | |
| --- | --- | --- |
| | Some years later I was given keys to the Church for emergency purposes since I lived nearby. &nbsp On Wednesday nights when we were playing volleyball at the Church, I liked to unlock the sancutary and play the pipe organ. &nbsp I would leave all of the lights off, and enjoy the way the stained glass windows looked with the street lights shining through into the dark sanctuary. &nbsp Our Church boasts two beautiful stained glass windows by Tiffany "Stvdios." &nbsp With its cool shades of green, blue, and purple, the window depicting Elizabeth of Hungary is stunning, but my favorite window is the narrow Tiffany window of an angel. | |
---
❤ &nbsp &nbsp &nbsp ❤ &nbsp &nbsp &nbsp ❤ &nbsp &nbsp &nbsp Life with Cami &nbsp &nbsp &nbsp ❤ &nbsp &nbsp &nbsp ❤ &nbsp &nbsp &nbsp ❤
The pictures of Camille are in chronological order but do not necesssarily align with the text.
Camille Mrozowski was born on September 3rd, 1953 and grew up in Hamtramck, attending Saint Ladislaus Grade School, Immaculata High School, and Michigan State University where she earned a Bachelor of Science from the College of Agriculture and Natural Resources. &nbsp Later she took classes to complete a Master Gardner program.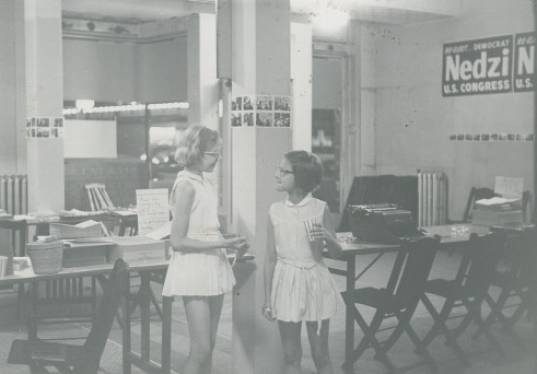 From July of 1977 to August of 1979, Camille worked as a volunteer in the Peace Corps, living in the Philippines, where she taught farmers the economics of farming, and some techniques, as well. &nbsp She purchased a little motorcycle which served as her transportation for those two years. &nbsp Upon returning to the U.S., Camille held a variety of jobs including work at a nursery and florist, and as a tour guide at the Michigan State Capital Building. &nbsp She also worked first as a volunteer and then as a year-round staff person at the YMCA's Storer Camps, the same camp she had attended for years, as a camper. &nbsp Eventually, in 1983, Camille moved into the little cottage on her family's 24-acre Ann Arbor property which they affectionately called "the farm". &nbsp In 1989, Camille was hired by Irwin Goldstein at the University of Michigan Medical School as an administrator in Medical Research, where she was adored by many colleagues. &nbsp Her long career at U of M ended in March of 2016, due to her health.
Camille and I saw each other regularly when we were young. &nbsp I was two years older. &nbsp Her parents, Gerri and Ted Mrozowski, were close friends with my parents, Elsey and Forrest Beck, centering around the Democratic Party in Detroit and Hamtramck. &nbsp Politics and campaigns were big in both of our lives in those early years, and our families socialized together, as well. &nbsp After college, Camille and I fell out of contact, but our families remained very close. &nbsp Once the two of us reconnected in April of 2013, we quickly became an item and had plenty of fun over the last three and a half years in spite of the health issues.
Though I usually called Camille, Camille, I also wanted a term of endearment – something that nobody else called her. &nbsp Since everyone called her "Cam", I decided on "Cami". &nbsp But mostly I called Camille "baby", and she called me "sweetie." &nbsp Thanks to each other, we both knew the joy of feeling loved, and it didn't take long to reach that point.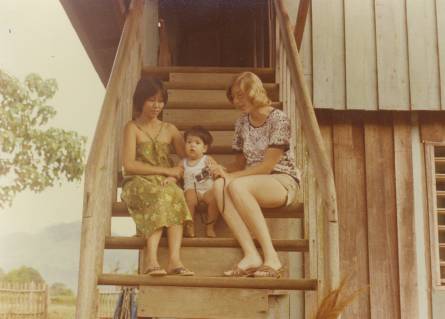 In 2006, my mom died on October 6th, the day before her 84th birthday, and one year later, in 2007, we held a memorial for her on her birthday. &nbsp Camille attended – it was the first time I had seen her in over thirty years. &nbsp I began to send her cards every Christmas and Easter. &nbsp After my divorce in 2009, I started including a note in Camille's cards asking her to come and visit me. &nbsp Meanwhile, Camille had two serious health episodes that kept her at home. &nbsp By 2013, Camille decided that she was ready to visit, so on Sunday, April 7th, she came to my house and, as planned, we drove through the old neighborhoods, looking at our parents' houses, grandparents' houses, a couple of the Nedzi campaign headquarters, and also visited my Aunt, Aulga Prokopowicz, in Grosse Ponte Shores, who knew Camille's family well.
Immediately, a daily conversation began between us, both on the phone and through e-mail. &nbsp When I recently looked at my Cami file, I noticed that it contains 957 e-mails, and I only kept the last e-mails of strings. &nbsp As Camille and I became better acquainted, we also became more and more fond of each other. &nbsp When I learned that Camille was coming regularly to Grosse Pointe Woods to clean out the family house on Littlestone Street, I asked her to let me know whenever she came so that I could meet her there and help out. &nbsp I began coming there on May 11th, and from that point on we met on numerous occasions to work together cleaning out the house and the garage. &nbsp I think it was our second time working together there, that when we were done we were sitting on the big white couch talking. &nbsp I scooted away from Cami and plopped down on my back with my head on her lap. &nbsp I'm sure she had to be totally shocked by that, but Camille acted as though it was perfectly normal. &nbsp That became one of our favorite postures for reading newspapers and New Yorkers: &nbsp Cam sitting on the couch, and me lying with my head on her lap.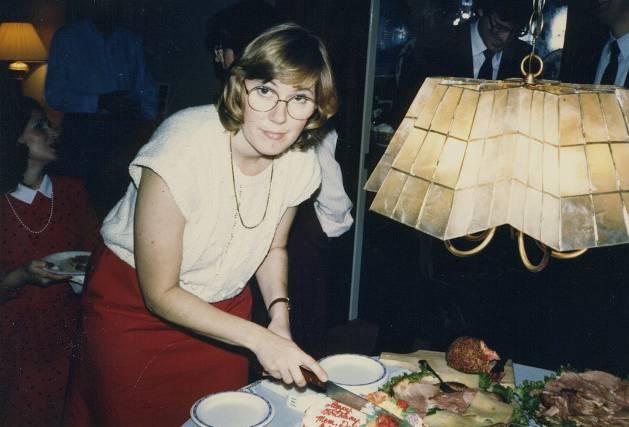 My first visit to the farm in Ann Arbor was for dinner on the 4th of July, and our first overnight was in Detroit on July 20th. &nbsp From then on, we tried to get together as much as possible, making numerous trips to each other's homes. &nbsp I would usually visit the farm on weekends, frequently two nights, and most weeks, Cami would come to Detroit and stay over on a Tuesday or Wednesday, and then drive to work in Ann Arbor the next morning. &nbsp And then there were the summers with lots of togetherness as soon as I finished teaching Summer School. &nbsp Our last trip to the Littlestone house was on July 28th. &nbsp We were finally done, and we held a little celebration there, of sorts. &nbsp Here are some of the other things we did for fun.
At the Michigan Opera Theater, we enjoyed nine operas: Aida, The Flying Dutchman, La Traviata, A View from the Bridge, Turandot, Elektra, Madame Butterfly, The Merry Widow, and Faust. &nbsp Classical music concerts included Apollo's Fire performing five of the Bach Brandenburg Concertos, and symphonic concerts featuring Durufle's Requiem, Mahler's fifth symphony, and Brahms' Fourth Symphony. &nbsp We had tickets for two more concerts in the DSO series, but by that time Camille's coughing had worsened, preventing her from attending. &nbsp However, once Camille started her infusions, her coughing diminished to the occasional cough that a healthy person might have – that was one great result of her treatments. &nbsp Jazz concerts included: &nbsp Jeff Hass at the DIA, Wayne Shorter at Orchestra Hall, Herbie Hancock and Chick Corea at Hill Auditorium, and two Doug Halliday Jazz concerts at Bert's Marketplace and at Kerrytown. &nbsp Most evenings, I would play the piano either at Cami's place or mine, and she would enjoy listening. &nbsp I always ended with what I had decided was "our song": &nbsp Two Sleepy People. &nbsp I was going to modify the words specifically for us, but I haven't gotten that far yet.
Camille always went to the Ann Arbor Folk Festival, and in 2016 she talked me into coming with her. &nbsp That year it was highlighted by Joan Baez. &nbsp We met for dinner beforehand, with the usual group of her co-workers, but Camille decided that we would not tell them about the cancer diagnosis that she had received just two weeks earlier so that we wouldn't put a damper on the evening.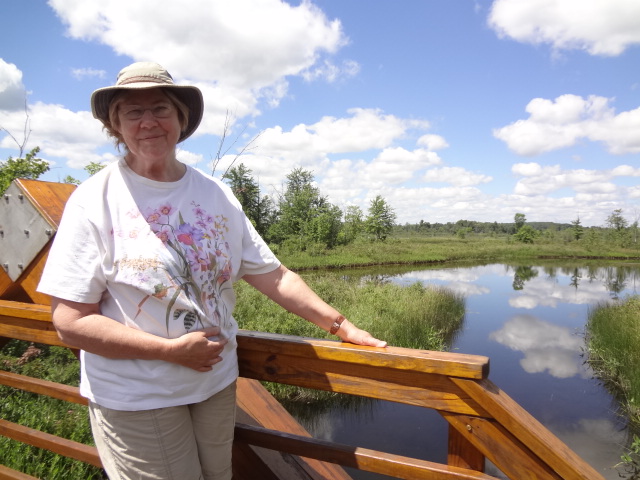 Movies that we saw included: &nbsp Blue Jasmine, The French movie, Mon Oncle Antoine, Saving Mr. Banks, The Grand Budapest Hotel, Far from the Madding Crowd, Steve Jobs, and I'm sure a couple more that I didn't record. &nbsp We also watched a few DVD and VHS movies at home.
Natural areas we visited included: &nbsp Matthei Botanical Gardens, the woods on Belle Isle, Seven Ponds, Grass River, Skegemog Swamp, Seven Bridges, Erie MetroPark, Rugg Pond, Glacier Hills, and Alpena Island Park.
On numerous Sundays, Camille joined me in attending the early service at Christ Church Detroit, and we would stay and socialize at the breakfast afterwards.
Our first vacation together was in 2013 when we took an overnight trip to Midland where we biked to a natural area the first day, and on the Pere Marquette Trail, the next. &nbsp The second week in August, we stayed at a cottage that belongs to my ex-wife's sister's husband's family on Lake Bellaire, northeast of Traverse City. &nbsp In 2013 and 2016 we stayed three nights, and in 2014 and 2015; four nights. &nbsp We would always go out for dinner from there, and one time we took the long scenic drive through the "Tunnel of Trees" to the Polish restaurant, Legs Inn. &nbsp The second weekend in September of both 2014 and 2015, we stayed three nights at Camp Chickagami on Lake Esau north of Alpena and from there, visited Rogers City, and the Potato Festival in Posen, Michigan. &nbsp Camille and I made two overnight trips to Toledo, both in 2014. &nbsp There we loved to dine at The Real Seafood Company which is even nicer than the Ann Arbor version.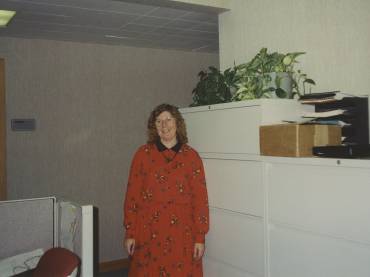 We did some biking together at a very relaxed pace on the Huron Valley Trail out of South Lyon, it was our longest ride together, about fifteen miles, and also a ride of almost twelve miles from my house to Belle Isle, around and back. &nbsp I was proud of Cami for having the guts and the strength to do those rides. &nbsp When Cami would visit me in Detroit, while I went for a bike ride, she would also ride her bike in the park at the end of my street, or sometimes she would walk in that park.
We made a special shopping trip to Cabella's, and shopped regularly at the Saint Clair Shores K-Mart, The Treasure Mart, and Monahan's Fish Market. &nbsp Camille was an excellent cook, preparing fish for us often, but at my house I would usually cook for her. &nbsp To name a few restaurants, we had dinners at Fishbone's, The Whitney (courtesy of Gayle) the Ann Arbor Real Seafood Company, Karl's Cabin, Carson's, Knight's, the DIA Café, Pasquale's, Casey's Pub, Leo's, Tony Packo's, El Charro's, Vivio's, Main Street Deli, Rockefeller's Honest John's, Northside Grill, Mark's Midtown, Aubree's, Holiday's, Pizza House, National Coney Island, Athenian Shish-Ka-Bob, Z's, Mercury Bar, Blue Tractor, Station 885, Amer's Deli, John Lau's, The Portage, and Cardamom. &nbsp Also, courtesy of Gayle, we saw the play "Inspecting Carol" at the Hillberry Theatre. &nbsp At the DIA, we saw the exhibit "Diego & Frieda". &nbsp And on Belle Isle, we attended one meeting and one outing of the Detroit Garden Club.
We enjoyed Christmas parties at Camille's neighbors, the Dombrowski's (Barbara and Brian Rice, that is) in 2013, 2014, 2015, and Thanksgiving in 2015 at Agnes and Dennis Hagerty's place. &nbsp In 2013, we went to Thanksgiving dinner at my Aunt Aulga's. &nbsp One thanksgiving Camille cooked at the farm and my sister, Alexis, joined us for dinner. &nbsp There were several visits from Oregon: Cam's sister, Gayle, also Gayle and her children, Matt and Sarah, and also the whole family. &nbsp Parties included my retirement party and the Cooperative Christmas party – both held at my home and both with over 50 people attending, a party for my Godchild, Clare Allenson, at her parent's house, a Graduation party for Ellyn, the daughter of Camille's cousin, Lynne, a lunch party at Camille's boss, Jessica's home, and twice Cami hosted a few co-workers for outdoor picnics at the farm. &nbsp We participated in yard sales in Lafayette Park and at my sister's home in Pleasant Ridge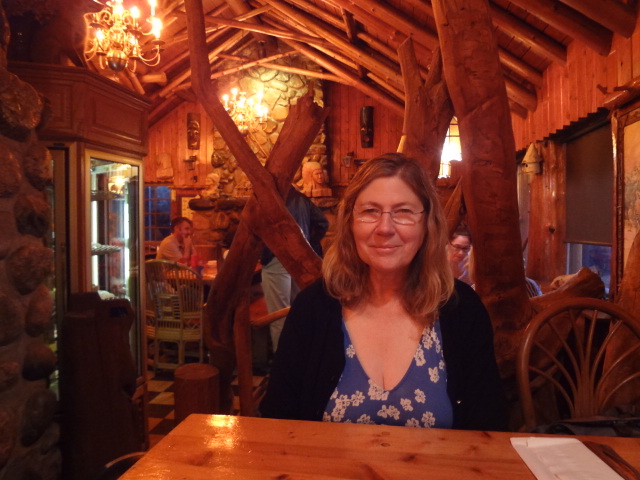 I went with Camille to Mt. Olivet Cemetery several times, visiting Camille's relatives, and she came with me to Evergreen Cemetery where many of my family members now reside.
On her own, Cam visited Oregon twice, and I dropped her off at the 2014 auto show at Cobo Hall, for car shopping. &nbsp Prior to the final illness, it was in our plans to visit Oregon together, and to visit the Nedzi's and Washington, DC.
My retirement from teaching, in June of 2015, freed me up to spend all of my evenings with Camille. &nbsp Then I gladly spent most of my time at the farm, only going to Detroit maybe one day per week to pick up mail. &nbsp The cottage was a fun place to live, and having Cami to love and to tease and to occasionally drive nuts, made it ideal. &nbsp When I would call her name in the cottage, she would sometimes call back, "I'm at the other end of the house." &nbsp That was Camille's favorite joke – as if the little cottage was big enough to have an "other end".
In the fall of 2015, Camille developed a chronic cough and found it increasingly difficult to lay other than on her right side. &nbsp Her doctor suspected pneumonia, but the anti-biotics did no good. &nbsp Three days after a biopsy of swollen lymph nodes on her neck, Camille received a phone call on January 15th from the doctor with the biopsy results – she had lung cancer. &nbsp The first response was ten days of Radiation Treatments on February 9th through 12th, 15th through 19th and the 22nd. &nbsp Also in February, in her Valentine's day card, I asked Cami to marry me, and once she stopped crying, she said "yes".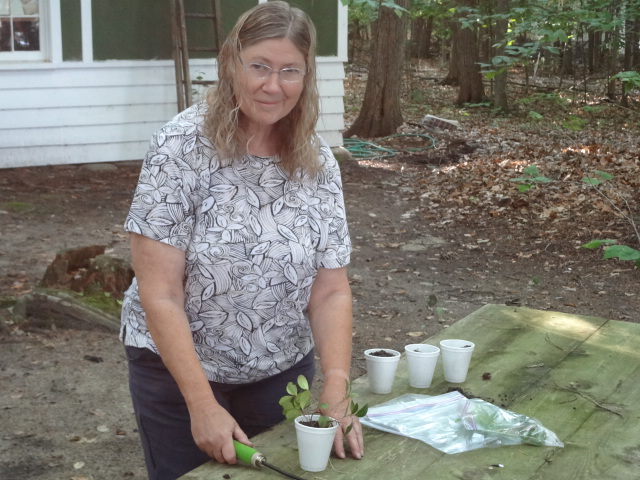 Meanwhile, I had long been scheduled for prostate surgery at Henry Ford Hospital. &nbsp On March 11th, Cami drove me there early in the morning, and waited a long time until I was awake before she left. &nbsp The plan was for her to come back and bring me home late the next day. &nbsp However, on the way home from the hospital, Cami experienced a stroke-like episode in her right leg and ended up in the same hospital as me, after she had called my ex-wife who drove her there and stayed with her for a while. &nbsp All of which led to a funny story about me smuggling pizza from my hospital room to hers so she could have something good to eat. &nbsp It was a miracle that I managed to get to her room on a different unit, through locked doors, while dragging my pole with the monitors, IV hook-up and all. &nbsp Camille couldn't believe her eyes when I walked into her room and immediately knew that I was not doing it with anyone's permission. &nbsp But she did enjoy the pizza. &nbsp When I told my nurse about it later, she thought it was hilarious.
Under the care of Dr. Ramnath, her oncologist, Camille received infusions at the U of M Cancer Center on the following dates: &nbsp March 8th, 30th, April 19th, May 10th, June 7th, 30th, July 19th, and August 23rd. &nbsp She also received a blood transfusion on April 30th due to a deficiency in her blood count. &nbsp To Camille, those infusions embodied hope. &nbsp When her doctor told her that she was no longer strong enough to continue the infusions, Camille and I both felt devastated. &nbsp Cami was hospitalized at U of M Hospital on March 1st through 4th, April 17th through 22nd, following which she was transferred to Regency at Bluff's Park until May 12th, September 6th through 9th, October 3rd and 4th, and finally, the morning of October 13th through 1:22 pm on Saturday afternoon, the 15th. &nbsp I visited Camille two times every day that she was hospitalized and two times every day while she was recovering at Regency. &nbsp She liked it when I would climb right in her hospital bed with her. &nbsp I encouraged others to visit her, too. &nbsp To the very end, Camille would always say "no" when asked if she had any pain. &nbsp That, at least, was a blessing.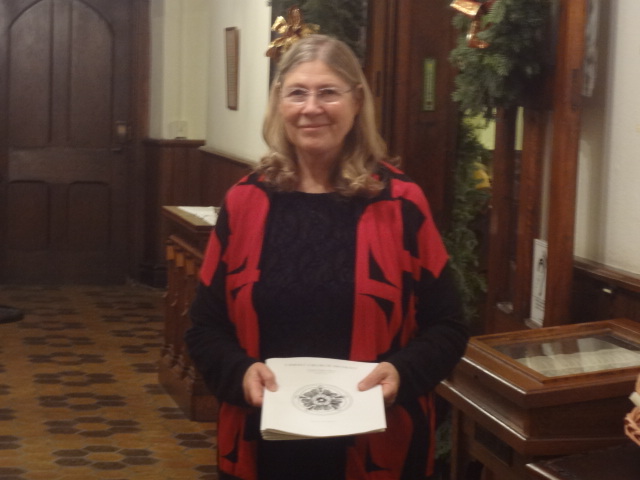 During the period when Camille's infusions seemed to be helping her, we optimistically hoped that she would live for another year. &nbsp Accordingly, we planned our marriage for later in December, a time when vacations might permit her family to attend from Oregon. &nbsp Cami ordered two white wedding dresses from catalogues and kept the one that we liked the best – it is still hanging in her closet. &nbsp We decided that the wedding would be a small and simple ceremony held at my Church on a mid-week day when there would not be any other activities going on at the Church. &nbsp The minister from my Church would officiate. &nbsp Our guest list included ten people. &nbsp After the ceremony, there would be a lunch at Vicente's Cuban Restaurant, where we could enjoy their specialty – paella. &nbsp Then back to my house to hang out. &nbsp Everything in a one mile radius. &nbsp I feel so sorry, and even stupid that I didn't ask Camille to marry me the year before, but how could we have known that time was so short? &nbsp Though we didn't have a piece of paper that said so, as far as we were concerned we were really married anyway.
Camille was a kind and generous soul who always found a way to compliment everyone she interacted with. &nbsp I truly admired that quality in her. &nbsp That's not to say that Camille couldn't get mad with others occasionally. &nbsp Her disposition could go from sunny to irate in a second when she received a repeat phone call from the same solicitor. &nbsp And likewise, because Cami hated her middle name, Susan, it was woe to those persons in a doctor's office or hospital who accidentally paged her by that name. &nbsp As my partner, Cami was forever wanting to pay or help pay for things. &nbsp I tried hard not to let her, but she was an absolute expert at rationalizing why she should. &nbsp As for me, it was a pleasure to devise and carry out projects that would make her life easier at the farm. &nbsp Her favorite was the motion-detector spotlights on the garage that would light her way to the cottage when she arrived home in the dark. &nbsp Camille and I were so well matched. &nbsp I couldn't have asked for a better girlfriend. &nbsp I like to think that I brought as much fun and love to Camille's life as she did to mine, which was a lot.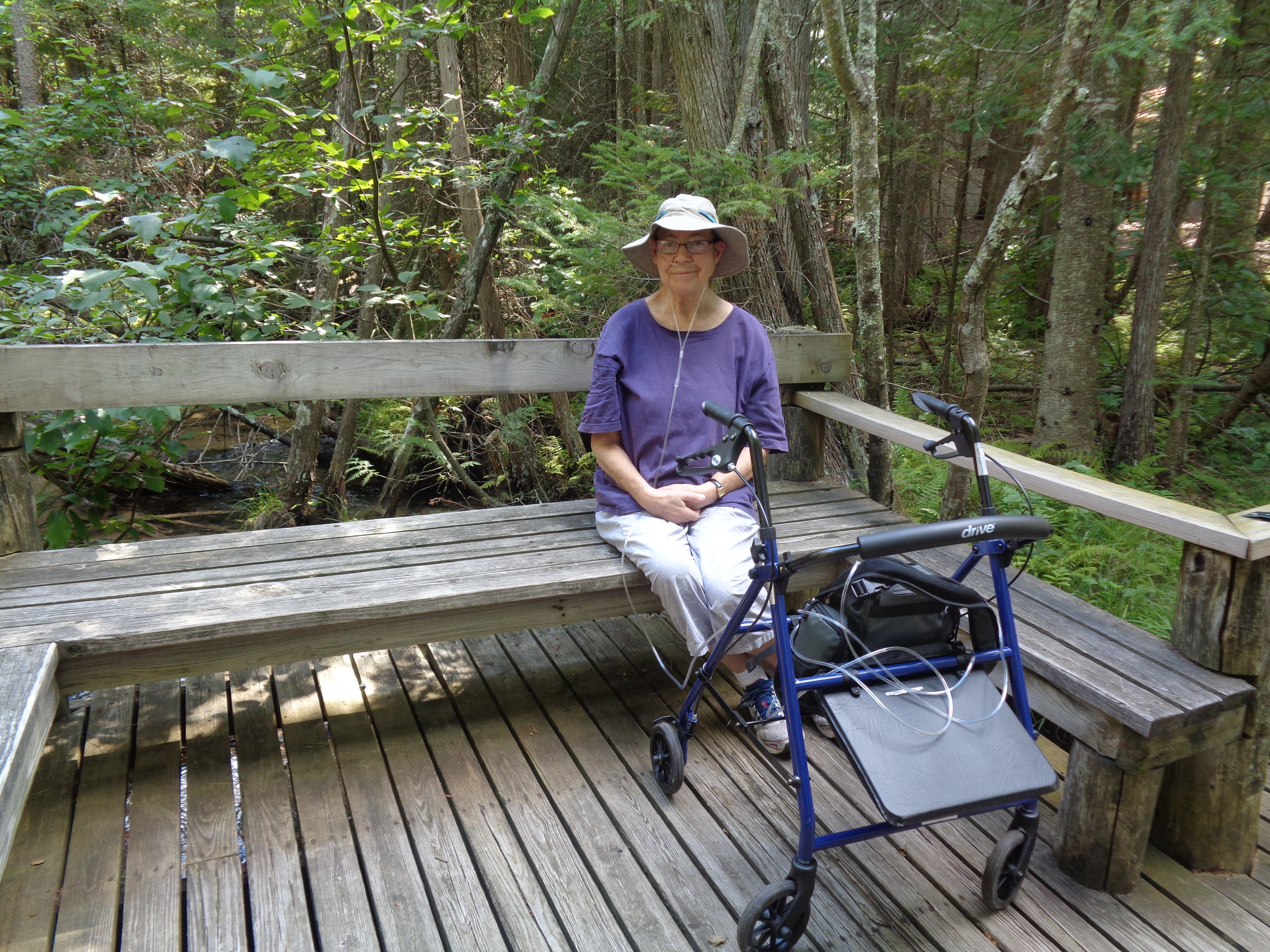 I wouldn't have thought that I was capable, but in October, and in the months that followed, I cried way more than I had cried in the whole rest of my life. &nbsp Of course, I felt sorry for myself, but the real cause for my tears was/is thinking of the great sadness that Camille felt, knowing that she would not be able to wrap up her projects at work; not be able to go on the trips we planned; not be able to accomplish her big dreams for the farm. &nbsp Looking back with 20-20 hindsight, I now can sincerely thank God that my other relationships did not last, and that I was therefore available to wrap my life around Camille. &nbsp She was easily my greatest love of all time. &nbsp We were perfect for each other. &nbsp I always loved it when Cami would turn towards me at dinner time and say in a matter-of-fact voice, "You do realize that I love you." &nbsp Yes, I did – it was mutual. &nbsp Thank you, God, for bringing Camille into my life, even for an all too brief period of time. &nbsp May You bless Camille and surround her with Your love for eternity. &nbsp Cami, I love you, my darling. &nbsp And, as you would always say: &nbsp Onward!
❤ &nbsp &nbsp &nbsp ❤ &nbsp &nbsp &nbsp ❤ &nbsp &nbsp &nbsp Life with Cami &nbsp &nbsp &nbsp ❤ &nbsp &nbsp &nbsp ❤ &nbsp &nbsp &nbsp ❤
---
Merci beaucoup &nbsp &nbsp &nbsp Muchas gracias &nbsp &nbsp &nbsp Domo arigato &nbsp &nbsp &nbsp Thank you &nbsp &nbsp &nbsp Grazie &nbsp &nbsp &nbsp Dxiękuję
Although I am attempting to create this website on my own, there are some "thank you"s in order.
Prof. Seymour Wolfson: &nbsp who taught me most of what I know about HTML via the CSC 3750 class I took at Wayne State University.

I-Power: &nbsp the company that hosts my website.

Da Button Factory: &nbsp a company that creates free button images - I have used their button images throughout these pages.

Resizr.com: &nbsp the online software for resizing and cropping images.

FileZilla: &nbsp lighting-fast FTP client for uploading files to my website.

Most of all, I want to thank the many people who have shared in the stories that I have related on these pages. &nbsp I hope that they will eventually visit this site, and enjoy reading about themselves.
---
To contact me . . .